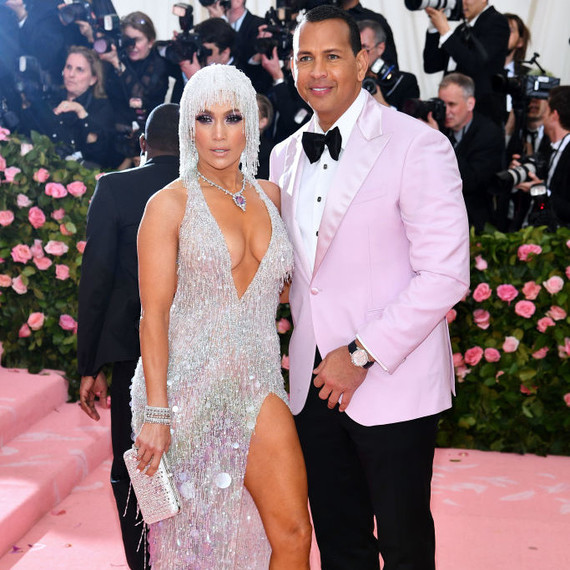 Alex Rodriguez is showing off his dance moves to prove that he can keep up with his pop star fiancée, Jennifer Lopez. While at Lopez's tour rehearsal on Wednesday, the former baseball pro posted a of him testing out her choreography on Instagram, writing, "Trying out for the #JLoItsMyParty Tour! Think I got a shot?" The funny clip featured Rodriguez grinning and nodding his head while Lopez and her dance crew performed behind him.
In another attempt to make Lopez's squad, the retired New York Yankee shared a second video—this time to Instagram Stories—offering a full body view of his not-so-professional dance moves. Lopez, in full support of his efforts, reposted the clip with the caption, "Lit."
Surprisingly, this mock audition wasn't Rodriguez's first go at becoming a professional dancer. The star recently showed off his skills during a hip-hop class with Jimmy Fallon on The Tonight Show. After their dance lesson, they sat down for an interview, which is when Rodriguez opened up about his March proposal to Lopez. He explained that the moment took six months of prep work. "I rehearsed for three days in a row. Because I wanted the sunset to be perfect," Rodriguez explained. "One day, the sunset was at 6:27, the next day it was at 6:29, and then the third day it was raining!" he continued. "So I kind of [decided on] 6:29, and I said, 'This is the time that I'm gonna do it.' And it worked out well."
It's clear Lopez admires and appreciates how committed Rodriguez is to prioritizing their relationship despite their busy schedules. The performer told Today's Savannah Guthrie just how supportive her man is: "He allows me to be who I am. I want him to shine in the greatest way possible and to be his best self. And we just help each other be better people, in a way."