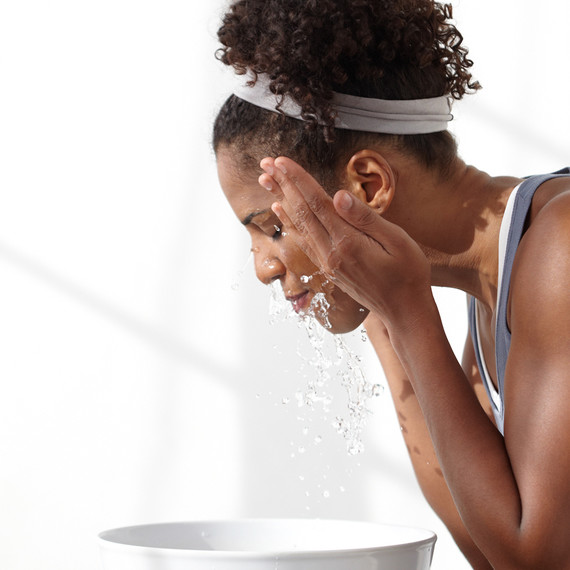 Nighttime skin care routines aren't always easy to keep up with, but if you want to achieve a flawless, glowing complexion in time for your wedding, focusing on your face at the end of the day is a great place to start. Why? Because the hours of 10 p.m. and 12 a.m. are considered the best times to heal and repair damaged skin, as your body is typically at rest. While a great cleanser is a must-have, here are four other products you can apply just before bed to see a big return in the morning.
Retinol
This tried and true skin-care ingredient will exfoliate dead skin as you sleep. Retinol-based products are best used sporadically, so try using every other night, giving your skin a rest in between. While prescription creams are available with the help of your dermatologist, you can also pick up products with lower concentrates of retinol at your beauty counter. Peter Thomas Roth's Retinol Fusion PM Night Serum, which delivers 1.5 percent retinol with vitamins C and E, is a good one to try. Just remember: It's essential to wear sunscreen by day if you're using a retinol, so pick up a quality SPF, too.
Oil
Many women suffer from dehydrated skin, and oils are the key to correcting this issue. Plus, there are oils that tackle a variety of additional concerns—you can find products for brightening, anti-aging, hydrating, and protecting—so you can treat multiple issues at once. Best of all, a great oil may help your other serums and products sink in deeper, which makes them more effective.
Eye Treatment
The skin around the eyes does not have oil glands, which is why you'll notice your first signs of aging here. With daily eye treatments, you can fight off fine lines, wrinkles, puffiness, and dark circles. While creams and lotions are great, eye masks have been trendy as of late, and Patchology's FlashPatch Restoring Night Gels are one we love before bed. They deliver a five-minute infusion of retinol, peptides, arnica for dark circles, and hydrating and de-puffing ingredients. 
Lip Treatment
Women may spend a good chunk of time and energy choosing a flattering lip color, but many of us are shockingly adept at actually caring for our lips. Lip scrubs before bed followed by a nourishing lip treatment will result in smooth hydrated lips by morning—who doesn't want soft, smooth lips for that big-day kiss?