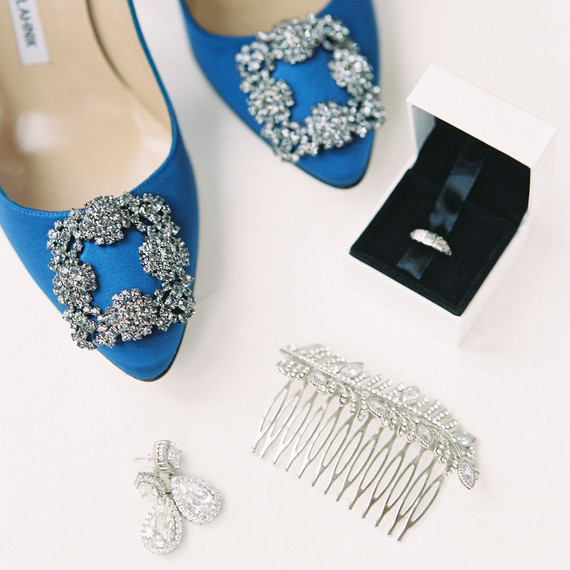 As a winter bride, there's a lot you have to think about when choosing your wedding attire. While considering heavier dress fabrics, long sleeves, and cozy accessories might be at the top of your list, you'll also want to think carefully about your big-day footwear. To help you select the type of shoes that makes the most sense for a cold-weather wedding, we spoke to two bridal stylists about seasonal footwear. Here, the dos and don'ts to remember when selecting wedding shoes for winter.
Try to tailor your shoe choices to your climate.
"Brides getting married in cold regions during the winter should not wear open-toe shoes," says Julie Sabatino, expert bridal stylist and founder of The Stylish Bride. If you're tying the knot somewhere that's warm in the winter, the pro adds, shop for a pair of sandals you love—heat and humidity are definitely factors that can come to play in certain climates. With that said, if you find a pair you really love that may not be entirely appropriate for the season, know that you have the freedom to go for it. "I have styled fashion-forward brides who have worn open-toed shoes in snow," says Selina Howard, expert bridal stylist at Vainglorious Brides. Just be sure to wear a shoe that you are comfortable in, and always try to pick a piece that makes you feel good.
Have a backup pair on hand.
"Winter brides should consider a backup pair of shoes (in the same heel height) for walking outside in case of bad weather," Sabatino adds. If your ceremony and reception are in two different places—or if you plan to venture outdoors for photos—you'll be glad you have a warm, dry pair to change into once you're back indoors.
Feel free to get creative with your selection.
"You can wear a pointed closed-toe shoe with embellished bling that looks like ice crystals," Howard suggests, which would be a nice way to honor the season. Want something a little less literal? A cool pair of ice-blue pumps or shimmering white stilettos would nod to the time of year, too.
Yes, ankle booties are perfectly acceptable.
Winter brides don't have to be limited to closed-toe heels, Howard says. She loves when a bride wears ankle booties, which keeps the entire foot covered—bonus points if you choose a pair you know you'll love wearing after the big day.
Remember that functional footwear doesn't have to be boring.
"If you're more into comfortable options that can withstand inclement weather, you can wear a white snow boot," Howard suggests. Platform sneakers are another comfortable yet stylish look the pro thinks works especially well during the cooler season.