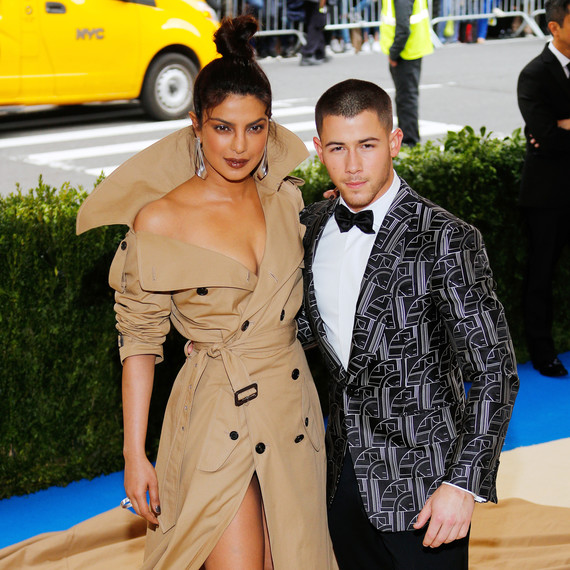 We called it earlier this month: Nick Jonas and Priyanka Chopra's wedding is just around the corner. Just weeks after the couple obtained a marriage license in Los Angeles (a document that's valid for just 90 days), they jetted off to Delhi, India, the reported site of their upcoming nuptials. Now, we have more proof that the celebrations are underway courtesy of Jonas' Instagram Stories, which show that the duo's friends and family members have arrived in the country to kick off the pre-wedding festivities.
Jonas posted a photo of a large group of his and Chopra's friends in Mumbai on Monday, captioning the image "Mumbai nights." The group also featured his brother, Joe Jonas, and future sister-in-law Sophie Turner—their arrival is a particularly telling sign that the duo's nuptials are happening sooner rather than later. Joe Jonas later took to his own Instagram Stories, where he shared an image of himself drinking coconut water (and added a suggestive heart emoji!).
According to sources close to the couple, Jonas and Chopra's union really is just days away—and that their whirlwind timeline is completely intentional. "Since day one, Priyanka and Nick have clicked and have never taken their relationship slow," an insider told Entertainment Tonight, before adding that the duo want to be husband and wife by the end of the year. "The couple got engaged two months after dating, they've met each other's families and had a bridal shower and bachelorette party in a very short period of time."
There's just no point in waiting, continued the source, since both parties are certain of their decision to marry: "For Priyanka and Nick, they know that they love one another and are going to be married, so they don't see the appeal in waiting too long."