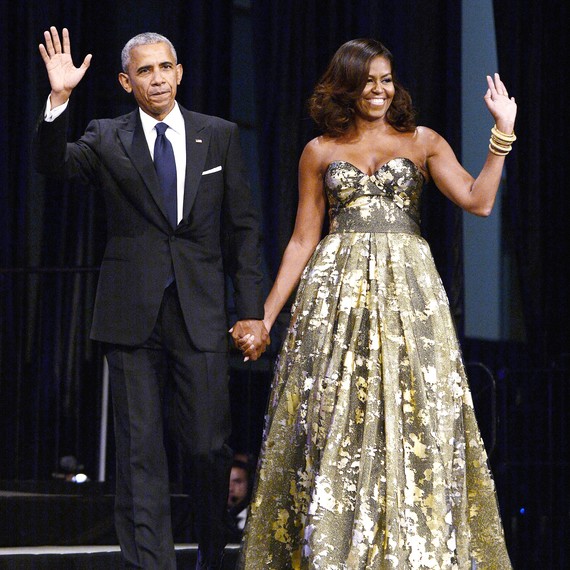 Barack and Michelle Obama have one of the strongest public marriages of the century—and their union is one that's inspired so many young couples on their own paths into married life. Still, that doesn't mean that the Obamas marriage is perfect. The former first lady's most recent interview with Good Morning America's Robin Roberts revealed that the couple's unbreakable bond has been tested more than once—through marital conflict and fertility struggles, especially, she shared.
Obama tackles all of these subjects in her new memoir, Becoming. One of the biggest takeaways from the book, she told Roberts, is that no marriage is perfect and that seeking help when it's needed is a sign of strength. "Marriage counseling for us was one of those ways where we learned how to talk out our differences," she explained. "I know too many young couples who struggle and think that somehow there's something wrong with them. And I want them to know that Michelle and Barack Obama, who have a phenomenal marriage and who love each other, we work on our marriage. And we get help with our marriage when we need it."
The former FLOTUS also opened up about a specific time when her and her husband's marriage was tested. Their first attempts to start a family were marked by trial and, devastatingly, a miscarriage. "I felt like I failed because I didn't know how common miscarriages were because we don't talk about them," Obama said. "We sit in our own pain, thinking that somehow we're broken." She went on to reveal that, with the support of her husband, she turned to IVF to conceive her two daughters, Sasha and Malia. "I realized that as I was 34 and 35," said the mom-of-two. "We had to do IVF."
Considering the couple's longwinded joint political career, it's not surprising that periods of stress and loss have punctuated their love story. Despite hardship, that romantic history has never dwindled, she said. In fact, Obama says that her feelings for her husband are as strong now as they were when she first fell in love with him. "As soon as I allowed myself to feel anything for Barack, the feelings came rushing—a toppling blast of lust, gratitude, fulfillment, wonder," she wrote in her memoir of the moment her future husband first kissed her on a summer night years ago.