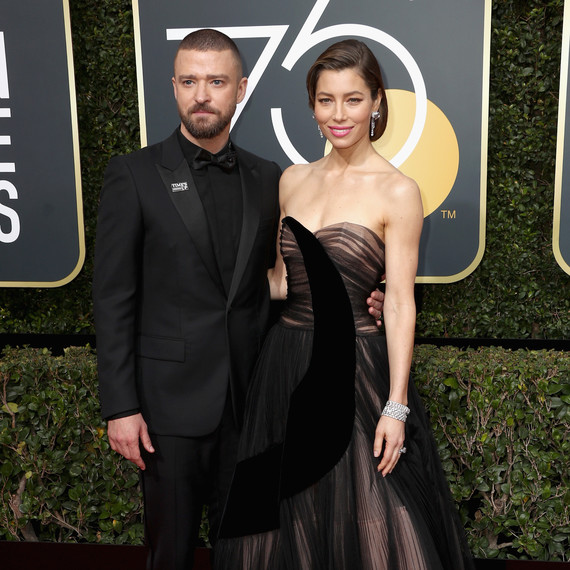 Justin Timberlake's new book, Hindsight & All the Things I Can't See in Front of Me, details stories from his early life and legendary career, but its most poignant anecdotes are about his relationship with his wife, Jessica Biel. In addition to revealing how the power couple met, the singer's memoir also explains the actress' impact on all aspects of his life—and details what he loves most about her, reports Entertainment Tonight. 
"She's become a huge influence on my life, and I have such admiration for her, especially seeing her as a mother now," he writes. "But I had admiration for her before. She's a very good writer. She's a poet. She's a tremendous actor. She's funny. Very funny. And she's one of the most patient people I've ever met." 
Timberlake also revealed that they've always grown as a couple, even though they've changed individually over the last decade. "She changed me. She changed my life. She's a different person from when I first met her, but she's also the same," he continues. "I'm sure she'd say the same thing about me. Ten years is a long time." 
To this day, Timberlake is still fascinated by his wife—and he's still learning new things about her each day. "She's everything, man. She just constantly surprises me with who she is, and who she's becoming, and I really hope I do the same for her," he says. "I'm excited to see what she's going to do next. I wake up and roll over and look at her, and I'm inspired."
Though the couple frequently walks red carpets together, they've kept most of their relationship's details under wraps. But in his book, Timberlake finally shared how he met his wife of six years. "We were at a surprise party in Hollywood at a speakeasy kind of a bar, a private club, and we were standing around in a group of people," he explains. "I made some sort of sarcastic comment, really dry. Nobody got it except her. We talked that night. The DJ played "Lucky Star," and we danced. And then she was gone." The timing wasn't right just then, but they reconnected after one of his concerts soon after. This time, he made sure to get her phone number before she left—and the rest is history.