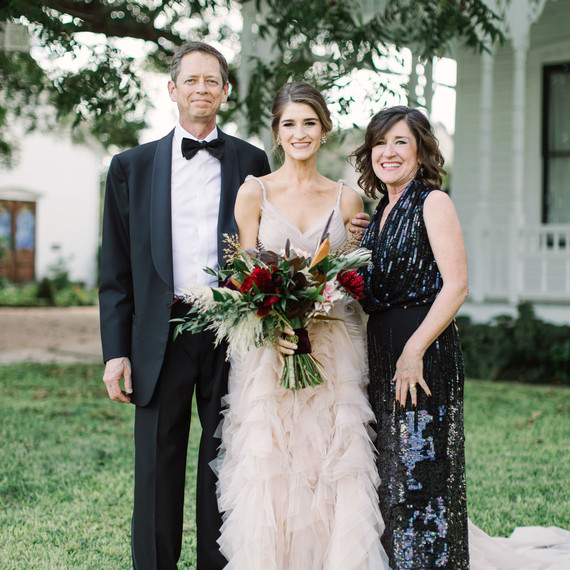 If your child has recently gotten engaged, you may be a little surprised by just how different weddings are now than they were when you planned your own celebration. Most couples strive to make their weddings as unique as their relationship, which means today's ceremonies and receptions are full of personal touches and small, meaningful details. As a parent, you may be wondering where you can step in (and, perhaps more importantly, where you should step back) when it comes to helping your child plan such a personal event. Fortunately, there are plenty of ways you can get involved that will having you doing more than just opening up your checkbook.
Be there for them.
Wedding planner Beth Helmstetter says, "The number one thing parents can do is to be fully engaged and present when the couple needs i, but also allow the couple space to create a celebration that's reflective of them." Sometimes that may mean letting them make decisions that you wouldn't make yourself.
Get in on the DIY trend.
If the couple plans to tackle any DIY projects, you'll probably find that this is a great place to offer your assistance, especially if you have any helpful skills. Tiffany Hayden, owner of Detailed, says these types of projects are a great place for moms to help, especially if the bride and groom want to do several different things. "Couples will often get in over their heads wanting to craft every bit of the wedding. Ask them to walk you through their to-do list and proactively find ways you might be able to help," she says. "Be the extra set of hands, a sounding board, or the voice of reason if the projects start becoming too ambitious."
Help the rest of the family get Instagram-ready.
Wedding photography is a big expense, so the couple will appreciate any help they can get in terms of orchestrating beautiful snapshots. One great place for the moms to assist is with the extended family. "Families often have no idea what to wear to a wedding, especially if they will be a part of family photos," Hayden explains. "Ask the couple if there is a color scheme or dress code they should be communicating to everyone they are close to, and then make sure the other side of the family is on board as well."
Make it fun.
Certain tasks—like the cake or food tastings—are better suited for groups than others. If you can, see if you can join these outings. You can also help the couple brainstorm fun ideas for the reception, like adding both dads' favorite beers to the bar's tap. Just be warned that you might end up having to foot the bill for any special requests you make. If you're looking for a financial way to contribute, but your child is resistant to accepting any monetary help, offering to cover the cost of an upgrade is a good way to do it. Just don't volunteer to help with anything you don't actually want to help with, and don't be afraid to say no.