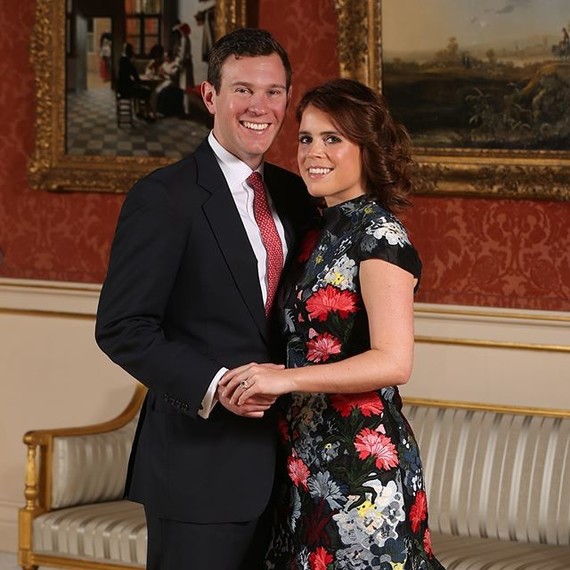 With Princess Eugenie and Jack Brooksbank's royal wedding just days away, we're learning more and more about what's to come. Here, a comprehensive guide to just about everything related to their wedding, including their televised ceremony, famous guests, cake flavor, and more. Now that you've done all the research, get ready to set your DVRs (and alarm clocks!) to watch the ceremony live, starting at 4:25 a.m EST.
Wedding invitations went out a few months ago.
Eugenie's traditional invites were embossed with black ink on white cardstock and showcased a royal insignia at the top; a script font was used to convey the details below. The text outlined the wedding's basic information and dress code, which requires guests to don traditional British wedding attire—morning coats for the men, and day dresses with hats for the women. Guests were asked to RSVP online.
Their ceremony venue likely sounds familiar.
That's because it is! The ceremony will begin at 11 a.m. on Friday, October 12th and will take place in the same place where Eugenie's cousin, Prince Harry, married Meghan Markle in May: St. George's Chapel, in Windsor, England. The Dean of Windsor, the Right Reverend David Conner will act as the couple's officiant during the service, which will last just under an hour. Afterwards, the newlyweds will pause for a kiss on the venue's West Steps before embarking on a horse-drawn carriage ride through town.
The wedding has a theme.
Eugenie has selected an autumnal theme to celebrate the season. Wreaths, berries, and flowers from the gardens of Windsor Castle will adorn both the ceremony and reception space, with a fall-inspired cake to match.
There's a cell phone ban in place.
Since Eugenie doesn't have an official role in the royal family, she's allowed to have a personal Instagram account—but according to Vanity Fair, the couple has banned mobile phones, cameras, and all forms of social media from the event. The unplugged ceremony was detailed in an information packet that attendees received with their invitations, which noted all of the wedding's rules. Another restriction? No day-of gifts. Though the bride and groom do have a registry, guests were asked to send gifts straight to Buckingham Palace.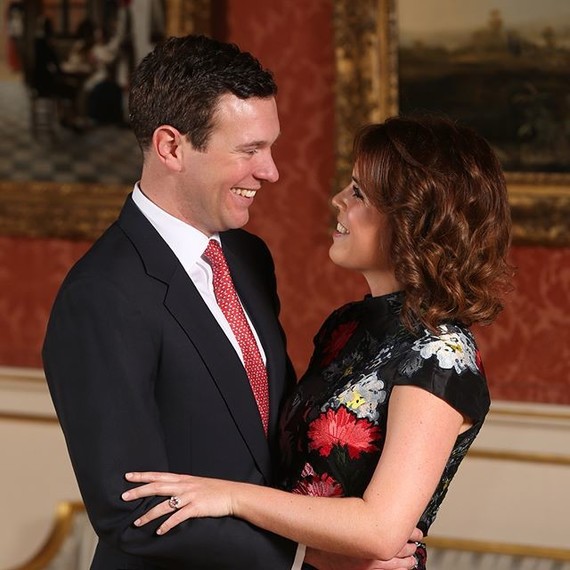 The bridal party isn't all-kids.
Eugenie's sister, Princess Beatrice, will uphold the role of maid of honor—an unusual position, since British bridal parties (especially royal ones!) are typically kids-only. Jack's brother, Tom Brooksbank, will serve as best man. As for the other wedding party members? Prince George and Princess Charlotte will definitely serve as page boy and bridesmaid. They'll have company, too. According to People, a handful of other young attendants have been confirmed, including Mia Tindall, Savannah and Isla Phillips, and Maud Windsor. A pair of older cousins, Lady Louise and Viscount Severn, have been named "special attendants." Non-royal wedding party members include Theodora Williams (singer Robbie Williams and Ayda Field's daughter) and Louis De Givenchy (the son of Zeo and Olivier De Givenchy).
Eugenie's wedding dress designer hasn't yet been revealed.
Since it's royal tradition to keep the wedding dress under wraps until the processional, we won't know what (or who) the bride will be wearing until we see her on the big day. The only thing Eugenie's confirmed is that, like other recent brides in her family, she'll wear a British-based designer.
The guest list is star-studded.
Opera singer Andrea Bocelli has been confirmed to perform two songs with the Royal Philharmonic Orchestra during the ceremony. Other likely A-list attendees include George and Amal Clooney, Robbie Williams, and Victoria and David Beckham. They'll be among the 850 guests in the chapel.
Harry and Meghan will attend.
The Duke and Duchess of Sussex will return to the site of their own nuptials for Eugenie and Jack's big day. They may not be able to stay for the entire roster of events, however, due to their impending tour of Australia.
There will be multiple receptions.
Following the service, guests will walk to Windsor Castle for a luncheon reception hosted by Queen Elizabeth—the grandmother of the bride. Later in the evening, a black-tie reception will take place at Eugenie's family home, known as the Royal Lodge. Owned by the father-of-the-bride, Prince Andrew, the Georgian-style estate will be the site of yet another reception the following day. The Saturday celebration will be festival-style and feature a fairground and food stalls. And according to Us Weekly, the menu may be influenced by some of the bride's favorite London restaurants, which have a vegetarian and vegan focus. Both parties' dinners will be eco-friendly and plastic-free, something that Eugenie and her fiancé are passionate about.

We know who's baking the cake, which is going to be huge.
London-based cake maker Sophie Cabot will create a massive, modern red velvet and chocolate confection that will incorporate seasonal colors, reports People. Cabot started baking the five-tier dessert at Buckingham Palace on Wednesday, and just revealed that her creation will contain up to 400 eggs, loads of unsalted butter, and nearly four-dozen pounds of sugar. The process, though, really began back in July, when the cake maker began crafting the edible decorations (these involve detailed sugar work, including sculpted ivy, acorns, and maple leaves) that she'll add on ahead of the treat's reveal at the afternoon luncheon.