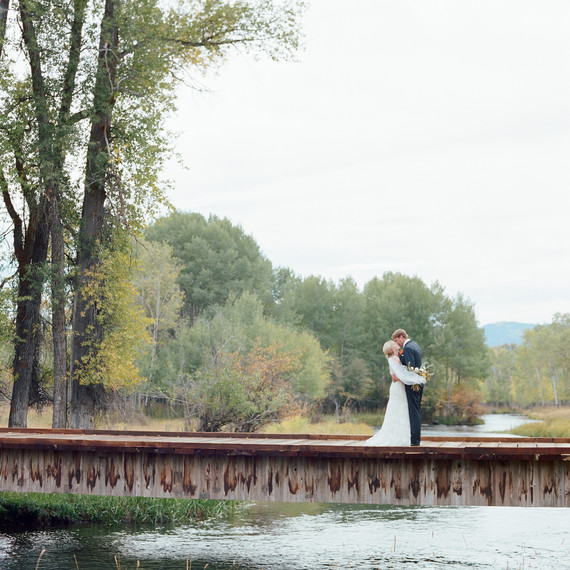 Having a backup plan you actually like for your outdoor wedding is always a good idea, but it's especially helpful for your peace of mind if you're planning to tie the knot between two seasons. If you've chosen a transition month for your big day, you'll need to give a little extra consideration to the details you choose for your outdoor ceremony and reception. Here, everything you need to know about open air weddings during these tricky times of year.
Have a back-up plan you actually like.
If you're planning an outdoor wedding during a transition month, you'll need to have a backup plan in place for all of your wedding events. The tricky thing about a transition month is that the weather can flip when you least expect it and you want to be sure you've covered all the weather possibilities. You may need to bring in tenting, flooring, and marquees for guests to access each space if there's rain or snow. As the likelihood of bad weather increases between seasons, you want to be sure you actually like your backup plan so it doesn't feel like a big disappointment if it does become necessary.
Be informed.
If you end up needing to make last-minute changes to your wedding day due to weather issues, it'll be a lot easier to go through this process if you know going into it exactly what needs to happen. Consider setting up a meeting with your venue and your coordinator to specifically talk through what'll happen if you have to execute your plan B. Not only do you need to know how to accurately budget for this, but you also need to know deadlines and make as many preemptive decisions as possible so you're not bogged down in the days leading up to your wedding.
Be a weather nerd.
Check out the Farmer's Almanac and take a look at what weather patterns have been like on your wedding date over the past three to five years. This can help give you an idea of what your wedding weather might look like, though it's not a guarantee. As you get closer to your actual day, you'll likely have a better sense of current weather predictions. A 10-day forecast may not always be the most reliable, so most backup plans will be decided the week of the wedding or at the last moment your tenting company will let you make the call.
Consider the temperature.
It's more likely to get chilly at night as summer transitions to fall and fall to winter. You want to be sure your guests are comfortable throughout your outdoor wedding, so you might consider bringing in mushroom heaters for the dining area as well as firepits for lounge zones. Pashminas and throw blankets are a nice addition, and you might chat with the catering team about adding some hot drinks to the cocktail or mocktail list. From winter to spring and spring to summer, you might be surprised but unexpected spikes in temperature. In these events, you may need cooling systems or fans to help keep guests comfortable.
Be open to design changes.
Some flowers may arrive in the markets early during a transition month, while other phase out. Rather than being overly detailed with the design of your event, let your florist have some fun with whatever looks fresh and reflective of your wedding's color scheme. Same with food—if peaches are still in season and your chef thinks they should be included in a cobbler at the dessert station, embrace it. Part of the fun of getting married during a transition month is that you can feel really connected to the earth and the seasons.