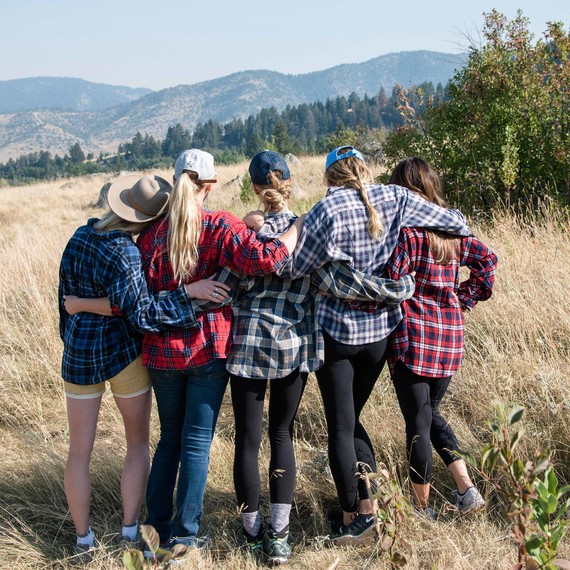 Looking for a way to make the wedding-day experience that much more special for your bridal party and guests? Then consider planning a pre-ceremony gathering. More and more couples are arranging day-of activities—otherwise known as wedding morning events, outings, or classes—as a way to squeeze in a little extra time with loved ones. If you have the time, it's a nice way to further personalize your day and treat your attendees to a unique experience. 
It's up to you to decide whether you want to limit your day-of activity to your bridesmaids and groomsmen or open it up to all of your guests, but no matter what you choose, you'll want to make sure the timing is right. Talk to your planner or venue coordinator to ensure you actually have the time to sneak away on the wedding morning. If not, you can still plan a fun gathering for your loved ones. Here, some of our favorite ideas.  
Head outdoors.
Grab your entire wedding party—groom included, if you're okay with seeing each other before the ceremony—and go for a hike, play a round of golf at a local course, or have a basketball match outside the venue. It doesn't really matter what you do so long as you enjoy some fresh air and the company of your closest family and friends. 
Go out for breakfast.
Eating breakfast in the bridal suite is nice, but enjoying your morning meal at a beautiful restaurant can be even better. Invite your bridesmaids and both moms to join you for pancakes, eggs, and coffee before you start hair and makeup.
​
Get sweaty.
If working out helps you clear your head, make time for a group sweat session before the wedding. Invite your 'maids and any guests who are interested to join you for a yoga, Pilates, or spin class. 
Volunteer. 
Hosting a late afternoon or early evening ceremony? Spend the morning volunteering—local shelters, soup kitchens, and nursing homes are always looking for an extra set of hands. Encourage your guests to sign up, too. It's a great way to get the good energy flowing before you walk down the aisle. 
Take in the sights.
Think about what there is to do in your wedding location. Is there a beautiful lake nearby? Rent paddleboards, kayaks, or canoes and invite everyone to spend the morning outdoors. If there's a great local museum, arrange for a private tour for your wedding guests.