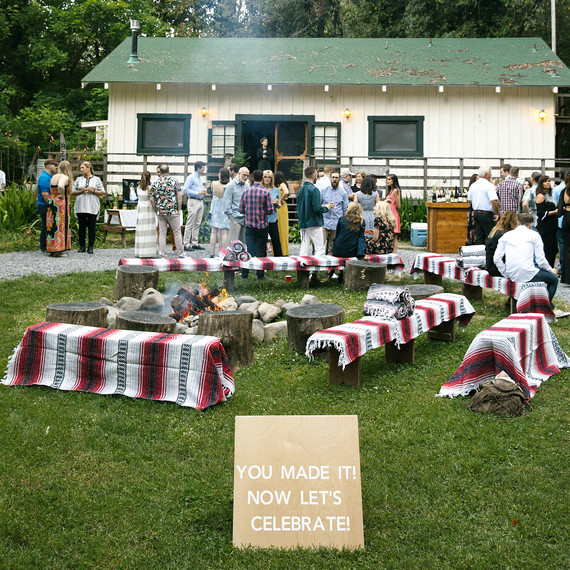 Whether you're planning a wedding in a far-flung destination or at a venue close to home that requires exclusive access for ceremonies and receptions, there are a few key things you should know about buying out your big-day venue. First and foremost, you'll need to understand the basics: What's a venue buyout anyway? Simply put, it's when a couple reserves an entire venue—and it's hotel rooms, if applicable—for the duration of their wedding. That means no outside guests will be on the premises, and you and your loved ones will have exclusive access to the property for the evening or weekend, depending on your needs. But there's more to it than just that. Here, we take a look at seasonality, minimums, timelines, and some contract terms that may come as a surprise as you look into buying out a venue for your wedding.
The season matters.
Depending where your wedding is set to take place, there's likely a low season, mid-season, and busy season for visitors, all of which affect the costs of a buyout. Wedding planner Jacin Fitzgerald says, "If you're booking during the busy season, the price will be much more expensive because you are paying for the financial 'loss' the venue is undertaking to close down for your event by not taking any outside reservations." Low season and mid-season tend to be more reasonable for pricing, but may come with less ideal weather or seasonal closures of local restaurants and businesses.
Understand minimums around food and beverage, rooms, and spa treatments.
If the venue you're buying out has a restaurant, they'll likely set a minimum food and beverage expenditure for the weekend. This is done to ensure that the venue doesn't lose money by having your guests exclusively at the property. Some venues require you to spend the money only at the restaurant, while others may count turndown treats and room service toward the minimum. If your venue is also a hotel, or else offers sleeping accommodations, you will likely be required to book a minimum number of rooms in order to have a venue exclusively for the wedding. Make sure you understand what happens if you dip below that number or if guests haven't booked by a particular date. Depending on your venue, rooms may be released and sold back to the public if not booked by 60 or 90 days out from the wedding. 
If the venue has its own spa, there will likely be a minimum for treatments during the duration of your buyout, too. Depending the extent of the minimum, you might offer to book massages or manicures for your bridal party as a thank-you. Your guests' own bookings will count toward the spa minimum as well.
Find out when you'll be able to start event production.
Fitzgerald recommends couples discuss access details with the venue prior to booking, as this will influence when your vendors can start event production, otherwise known as setup. "Just because you're doing a buyout doesn't mean you have the venue for install and takedown over multiple days," she says, "If you're planning to build a structure for your ceremony or install a tent, which can sometimes take several days, your buyout may not allow you the time you need for such elaborate plans and your cost will increase further to tack on the extra days for the full project at hand." She notes that some venues are more flexible than others and may allow vendors onsite prior to the start of the buyout, but it's important to think about how best to protect installations in public spaces where outside guests may be able to access them.
Cancellation policies may not cover weather disasters.
Tropical destinations have seasons for major weather events like monsoons and hurricanes, and if you're planning a wedding during those times you'll want to be sure you're comfortable with the cancellation policy for natural disasters. Many venues won't cover cancellation costs if you're unable to host the wedding due to a major weather incident, while some may be more flexible and allow for a date change.
Read the fine print.
If there's anything on your buyout contract that you don't understand, make sure you get a proper explanation from the venue. Many of the miscommunications between clients and venues arise from an unclear contract or confusing wording, so it's important that you've gone through the contract with a fine-tooth comb and know exactly what you're getting into before signing the dotted line.