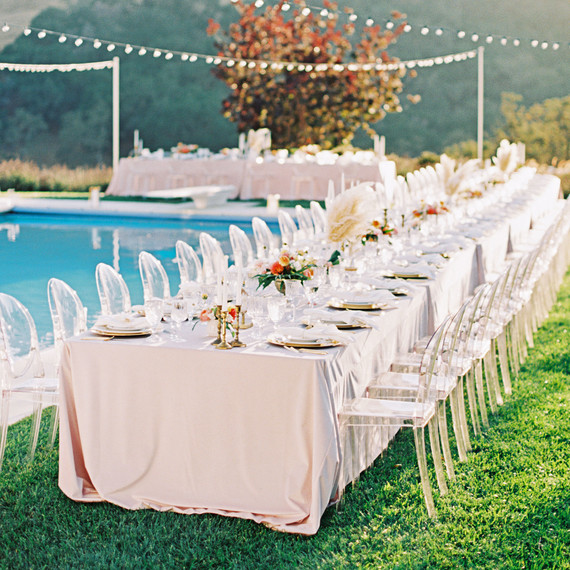 Does your ideal vacation involve relaxing by the pool with a refreshing beverage and great book? Then a poolside wedding might be right up your alley! But before you dive straight into planning your waterside celebration, you need to consider some logistical details. Whether you're tying the knot beside a fancy hotel pool or in your own well-equipped backyard, a poolside wedding can pose some challenges. Here, seven factors to think about before finalizing any plans.
Type of Pool
You can find a beautiful pool at a variety of different venues, such as hotels, resorts, country clubs, recreation centers, private estates, and even backyards. As you narrow down your options, it's important to consider what type of pool works best for your celebration. For example, lap pools used for athletic purposes look long and skinny, while "natural pools" have an architectural appearance with boulders and waterfalls. Infinity pools, arguably the most elegant option, give the illusion of no boundary. The water should appear to "drop off" and merge into a picturesque background (usually an ocean or skyline). Depending on your vision for the day, one style might better suit your celebration than another, so think about the look and flow you want for your day before you book a space.
Reserving the Pool
If you're tying the knot at a hotel or resort, you'll likely need to rent out the pool for your event, which typically necessitates a fee. Otherwise hotel guests could hop into the water at any time, spoiling your vow exchange or reception toasts.
Space Restraints
One major downside of poolside weddings: Depending on the setup, the body of water may divide your space, or else minimize the amount of usable room you have. Of course, this limits set-up options for furniture and decorations. If there's space on both sides of the pool, consider utilizing it as a natural division for different aspects of your wedding; for example, the ceremony can take place on one side of the pool, and guests can swap sides for the reception. Alternately, you can install a temporary walkway or bridge across the pool's surface for easier access. 
Safety
Overserved wedding guests and open bodies of water don't go hand-in-hand. The pool may also be a safety hazard for your littlest wedding guests, especially when their parents socialize during the cocktail hour and reception. Consider hiring a lifeguard or security for the event if you have major concerns.
Decorations
A memorable wedding reception isn't complete without stunning decorations. Adorn the pool with petals, balloons, or floating candles—but always ask the venue for permission first. While a pool can be beautiful on its own, it will likely be a focal point at your wedding, and we encourage you to dress it up.
Swimming
Are you planning to jump into the pool as the reception winds down? Make sure that the venue allows swimming, and if they have restrictions involving curfew, maximum capacity, or noise. It's also smart to have rafts, floats, and pool noodles available for your water-loving guests! (Remember to discuss your pool plans in the invitation, so guests know to bring a swimsuit to the wedding).
Restrooms
Many pools have "pool houses" where guests can use the bathrooms; others require you to venture inside the hotel or resort. Find out the specifics for your venue and determine if you need back-up options. Installing portable restrooms out of sight may prevent long bathroom lines or minutes-long treks to the nearest loo.