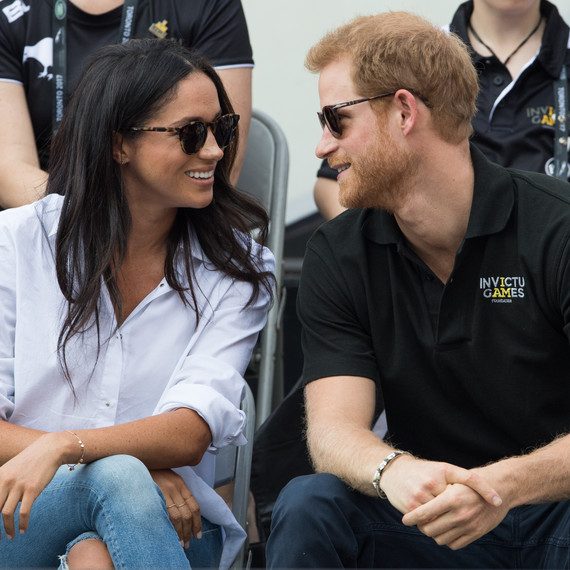 Amal Clooney's friendship with Meghan Markle secured her and George Clooney invites to the royal wedding—the Clooneys even attended the intimate evening reception at Clarence House, where George allegedly stood in as bartender! According to an Us Weekly source, the actor and human rights lawyer allegedly returned the royal couple's hospitality by inviting them to their their palatial home on Lake Como.

"The Clooneys had personally invited Meghan and Harry to their home at the beginning of the summer with an open invitation," the insider said, before revealing that the Duke and Duchess of Sussex took them up on the offer last weekend. "George and Amal were so happy to host Meghan and Harry. Harry and George have a special bond and friendship." While in Italy, Prince Harry and Meghan also spent time with George and Amal's 14-month-old twins, Ella and Alexander, and "enjoyed the privacy and security the Clooneys had for them there."

The duo plan to follow their luxurious Italy excursion with a journey to another picturesque location. The duo is scheduled to attend the 2018 Invictus Games—a sporting event that Harry founded—in Australia this fall, and plan on touring the country after the tournament's conclusion. Though travel is a big part of the couple's upcoming itinerary, their post-nuptials schedule has kept them close to home. Since tying the knot, the newlyweds have spent most of the last few months at their country home in Oxfordshire, England—a wedding gift from Queen Elizabeth.

As for the Clooneys' fall plans? It's rumored that they might be on the guest list for another royal wedding in October, thanks to George's connection to Princess Eugenie's fiancé Jack Brooksbank, who works as a brand ambassador for the actor's tequila company.