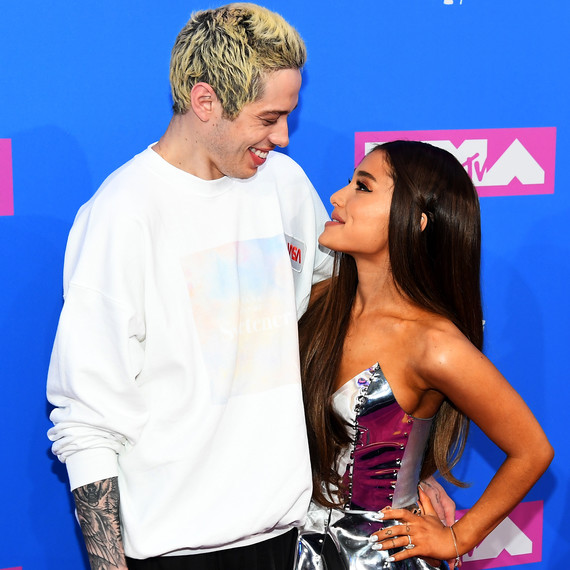 Music was the focus of last night's MTV Video Music Awards, but celebrity couples couldn't help but steal a little bit of the spotlight during the event. One of those famous twosomes was Ariana Grande and Pete Davidson, who used the evening to make their red carpet debut as fiancés. 
The Sweetener singer and the Saturday Night Live star announced their engagement just last month, making their upcoming wedding a big topic of the night. Frankie Grande, the bride-to-be's brother, had much to say on the subject—specifically about his upcoming role in the wedding party. "I'm just so excited that we get to have this amazing celebration and I get to be a part of it, obviously," he revealed to Entertainment Tonight. "I'm definitely in the bridal party."
In a separate interview with Us Weekly, he shared his thoughts about his future brother-in-law. "He's super chill and he adores her," the Big Brother alum explained. "He is calm. They're the yin and yang in a way, where they fit so beautifully together into this very, like, calm sphere," he went on. He also revealed that the duo is in the prelimary phase of wedding planning, which they kicked off by compiling "vision boards, like real simple stuff." 
Frankie Grande wasn't the only one to put the couple's relationship front and center. Davidson paid tribute to his soon-to-be wife in a special way: He wore a bracelet bearing his fiancée's future initials, "AGD," which he flashed while posing with his future wife before the award show. (According to a recent interview with Beats 1, she's probably going to use both last names.) Grande's homage to Davidson came later in the evening. She won the Best Pop award and honored her future husband in her speech, stating, "Pete Davidson, thank you for existing."