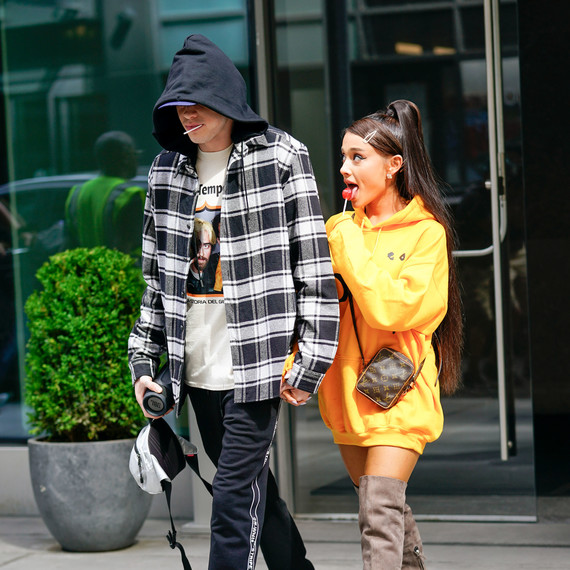 If you thought Ariana Grande and Pete Davidson's engagement was fast, you won't believe the latest news about their relationship. While the couple officially got engaged a few weeks after they started dating, the Saturday Night Live star apparently proposed marriage a whole lot sooner: On the very first day they met!
Davidson revealed the surprising information in a recent interview with GQ. "The day I met her, I was like, 'Hey, I'll marry you tomorrow,'" he explained. Initially, Grande didn't believe him, but he found a way to prove it to her. "She was calling my bluff," he shared, so he started sending her photos of engagement rings. "I was like, 'Do you like any of these?'" Grande was clearly on board with the expedited relationship timeline, since she quickly pointed out the diamonds she preferred.
No wonder the comedian had no problem choosing a diamond for his now-fiancée with record speed. According to TMZ, Davidson spent nearly $100,000 on the pop singer's proposal piece, which was designed just for her (by jeweler Greg Yuna) and took almost two weeks to make. The massive accessory features a pear-shaped stone, which Grande must have flagged during their initial exchange.
Later in the GQ interview, Davidson commented on how his life has changed since popping the question to the music star. "GQ wouldn't hit me up if I didn't recently get engaged to a super-famous person," he stated candidly. He expressed similar sentiments in an earlier interview with Jimmy Fallon on The Tonight Show. "I'm forever known as her plus one," he shared, before explaining why he doesn't mind. "I feel like I won a contest," he told Fallon.