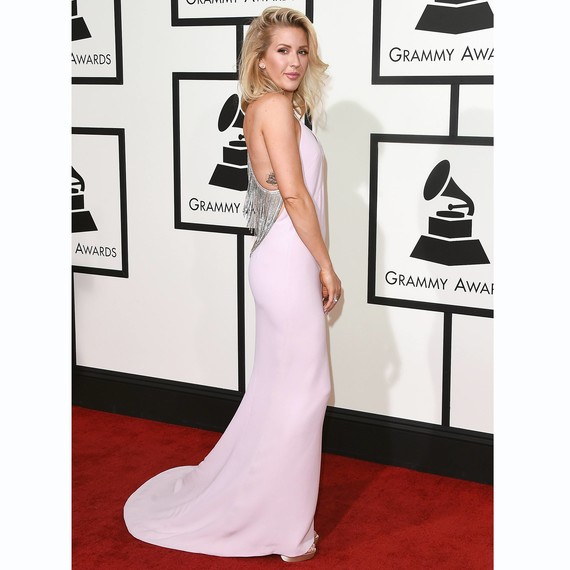 After 18 months of dating, Ellie Goulding and her boyfriend, Caspar Jopling, are engaged. Unlike many contemporary couples, the pair skipped the social media announcement and opted instead for the traditional route. They placed a blurb in the marriage section of London's The Times newspaper, reports People.
"The engagement is announced between Caspar, son of The Hon Nicholas Jopling of Yorkshire and Mrs. Jayne Warde-Aldam of Yorkshire, and Elena, daughter of Mr. Arthur Goulding of Hertfordshire and Mrs. Tracey Sumner of West Midlands," the note read. According to a The Sun source, the British singer used her given name—not her stage moniker—with the hopes that fewer people would make the connection. "The couple wanted to tell friends and family first and people won't notice because her name is Elena," the insider revealed.
Surprisingly, Goulding and Jopling aren't the first celebrity couple to make this type of traditional announcement. Kit Harington and Rose Leslie, who tied the knot in June, broke the news in the same way, publishing their own engagement announcement in their local newspaper in September 2017. 
Goulding's choice in Jopling, an Eton-educated art dealer who currently works at Sotheby's in New York, initially surprised fans who are familiar with her high-profile dating history. The "Love Me Like You Do" singer was previously connected with Niall Horan, Calvin Harris, and Skrillex, but the pair frequently puts their love on display on social media. Earlier this year, Jopling posted an Instagram photo of Goulding, calling her "darn beautiful darling." Although the couple has yet to make a statement about or reveal any plans for their upcoming union, we can assume that their wedding's guest list will be star-studded. Goulding was invited to sing at Prince William and Kate Middleton's wedding in 2011, and Jopling counts both Will and Harry as personal friends.