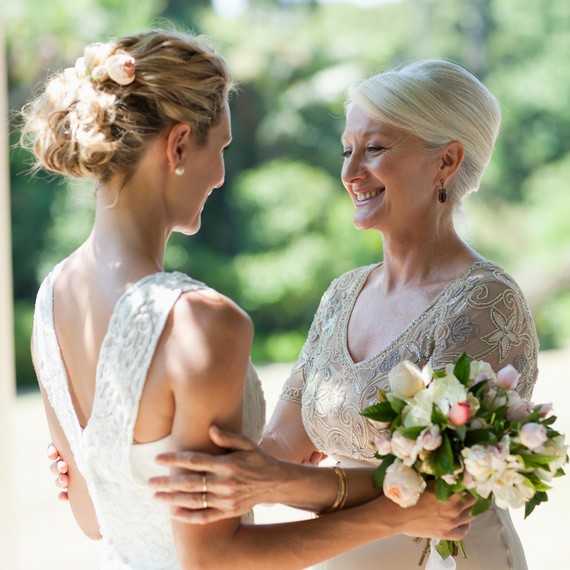 There is a lot to consider when choosing a lip color for your child's wedding day. In addition to choosing the right formula (long-wear is the way to go if you're nervous about feathering or bleeding), you'll also want to select a flattering color. After all, it's important to find a hue that helps you pop in photos, but still feels subtle and timeless. That makes the task of choosing a great lip color for your child's wedding easier said than done. To help, we're sharing what to look for in a product, plus a few of our favorite colors to try.
Try a neutral with a touch of shimmer.
Finding the right lipstick is hard, and if you've looked at several different colors and feel like you're not getting a look you love, ask the makeup artist for something neutral with a little shimmer. One universally-beloved option? Laura Mercier's Stickgloss Lip Color in Purple Haze. It's the perfect pinky-violet shade with just a touch of shine, and since it's a "stick-gloss," you'll get sheer color that's applied as the perfect middle ground between a lipstick and a lip gloss.
Grab an all-in-one product.
Part of the reason you may not be liking the lip color you're wearing is because it's not the right one for you. While you can work with a makeup artist to get a better color match, choosing a universally flattering product (read: one that's designed to look good on everyone) might be the way to go. And if that product offers everything you need—balm, gloss, stain, and lipstick—all in one, even better. That's why it's worth trying out  IT Cosmetics Vitality Lip Color in Je Ne Sais Quoi, a four-in-one product that works with your body chemistry to create the perfect pink for you.
Find a classic you can twist.
One of the best things any woman can do is find a lip color you love, then learn how to tweak it for different occasions. One great example is Stila Stay-All-Day Liquid Lipstick in Baci, a great neutral that goes on with a creamy matte finish. Paired it with a sheer gloss for a light, natural, or go with a dark liner and gloss to transform it into a deeper neutral that still works with your skin tone.