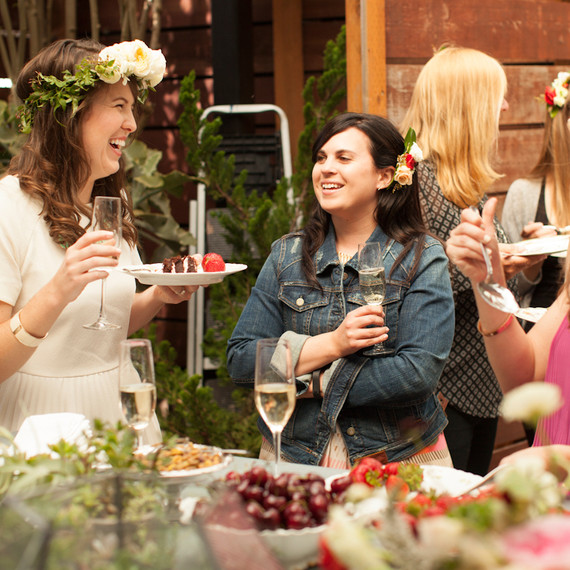 Second weddings are often fraught with etiquette questions around what's appropriate, including whether or not a second-time bride can have another bridal shower can be thrown in her honor. To get the scoop, we talked with Lizzie Post, an etiquette expert from the Emily Post Institute and host of the Awesome Etiquette podcast, to understand the modern-day rules around pre-wedding parties for second marriages.
Is it normal to have a shower for a second wedding?
Post says there's no reason why you can't have a bridal shower for a second wedding. She does point out that it's not as common, and that many second-time brides often prefer to keep the parties smaller, but that you should do what feels right for you. If family and friends are excited about celebrating your upcoming wedding, go ahead and plan one.
Who hosts a bridal shower for a second wedding?
Post says it can be the same host or a new host depending on the bride's inner circle. There's no specific etiquette around who can host the bridal shower and certainly no reason why a sibling or best friend can't take the lead on planning a second shower. But since it's common for social circles to change a bit from the first marriage to the second, there might be someone in your new group of loved ones—say, a future mother-in-law or new sister—who wants to host.
Is it okay to invite some of the same guests to your second shower?
"If it's your second wedding, I would keep the party on the smaller side," Post says, "but go ahead and invite those friends and family who you know will be there to support you and make you feel good." She explains, "the reason to keep it smaller is simply that people have done this for you before. But you also don't want to feel like you're punishing yourself or you're being punished for doing it a second time around." She encourages brides to do what they're comfortable with, but to be tactful with the invitations.
Can we register for our shower if it's a second marriage?
When it comes to a registry, Post says, "It's still really helpful the second time around." So, go ahead and register. Post recommends being conservative with the registry since some guests have given you gifts previously, but also make sure you have a range of options for them to choose from should they want to bring a gift.