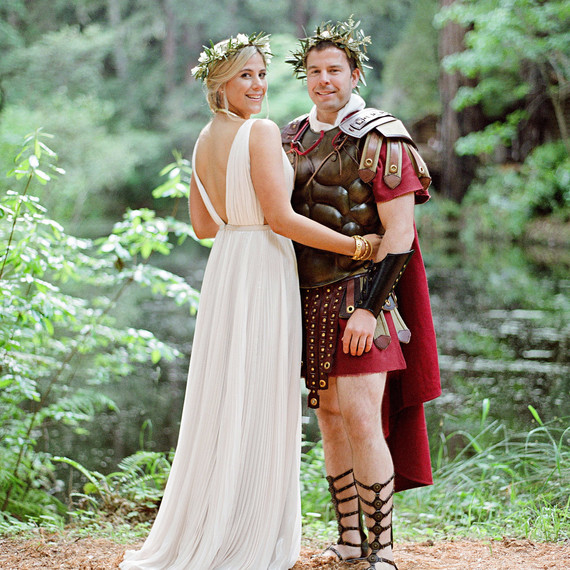 Wedding themes are popular as ever these days, but often cause confusion about dress codes. Is it necessary to wear something that fits with the theme, or is the theme something the couple is sharing so that guests get a sense of what the wedding will be like? From how to choose the right attire for the occasion to figuring out what it all means for you, we're giving you the scoop on this potentially confusing invitation line.
Consult the dress code.
First and foremost, check if there's a dress code or attire requests listed on the invitation. Wedding planner Claudia Hanlin of the Wedding Library says, "If it's not specified in the dress code, I would never recommend going theme-oriented for your attire." There's a difference between a theme and a dress code, and the only way to know what's appropriate to wear is to check the latter.
Why do couples mention the theme?
Just because a theme like "garden party" is mentioned on the wedding website doesn't mean you have to wear your favorite floral dress. Instead, Hanlin notes, it may cue that stiletto heels aren't the most appropriate choice of footwear as you'd be sinking into the grass of the gardens constantly. More often than not, the theme is included to give guests an idea of what to expect, or to provide helpful logistical information in a subtle way.
Check the wedding website.
If the couple's listed a dress code that implies you should wear a costume or themed attire (like Greek gods and goddesses), they'll likely have more information about this listed on their wedding website. This is more common for welcome parties and rehearsal dinners rather than for the wedding itself. With that being said, some receptions may request something like "white attire only," but that's a very specific theme that's straightforward for guests to sort out.
Check out the venue.
If the formality is confusing because of an unconventional dress code, Hanlin suggests looking to the invitation and the venue as your clues. If the invitation is formal and the venue is a museum or historic landmark, you're probably going to be dressing in a more formal take on whatever the dress code is. If you're attending beachside welcome cocktails, less formal attire is appropriate.