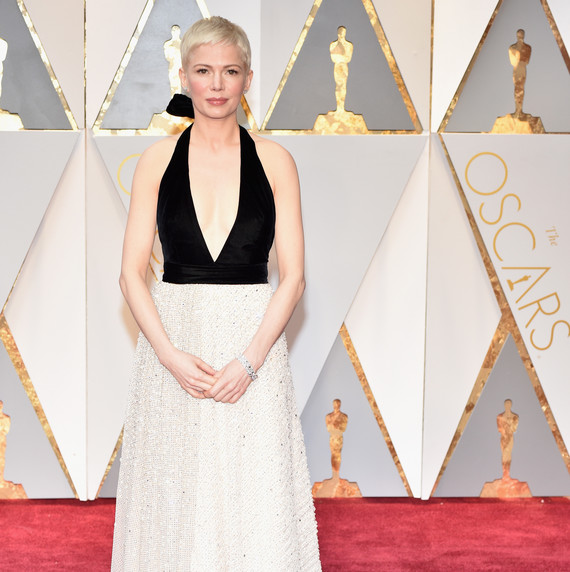 Michelle Williams has never felt comfortable talking about relationships, she recently revealed to Vanity Fair. But her bond with and secret wedding to indie musician Phil Elverum—which came as a major surprise to her fan base—merits the conversation, she said. The actress opened up about her and the singer's "very sacred and very special" courtship after confirming their intimate Adirondacks nuptials for the very first time.
"Obviously I've never once in my life talked about a relationship," she told the outlet. "But Phil isn't anyone else. And that's worth something. Ultimately the way he loves me is the way I want to live my life on the whole. I work to be free inside of the moment." Williams also revealed that her and Elverum's connection stemmed out of their similar approach to love. "I parent to let Matilda feel free to be herself, and I am finally loved by someone who makes me feel free."
The pair shares another major point of common ground—they both have experienced devastating loss. Elverum lost his first wife, fellow musician Geneviève Castrée, to cancer just 18 months after welcoming their now-three-year-old daughter. Williams, who was married to and shares a child with the late actor Heath Ledger, believes that revealing both her and her now-husband's journey might help those embarking on a new relationship after the death of a spouse. "I never gave up on love," she continued, before explaining that Ledger will always be part of her and her daughter's life. "I always say to Matilda, 'Your dad loved me before anybody thought I was talented, or pretty, or had nice clothes.'"
As for Williams' advice to those searching for love in the face of such hardship? "Don't settle. Don't settle for something that feels like a prison, or is hard, or hurts you," she advised. "If it doesn't feel like love, it's not love."