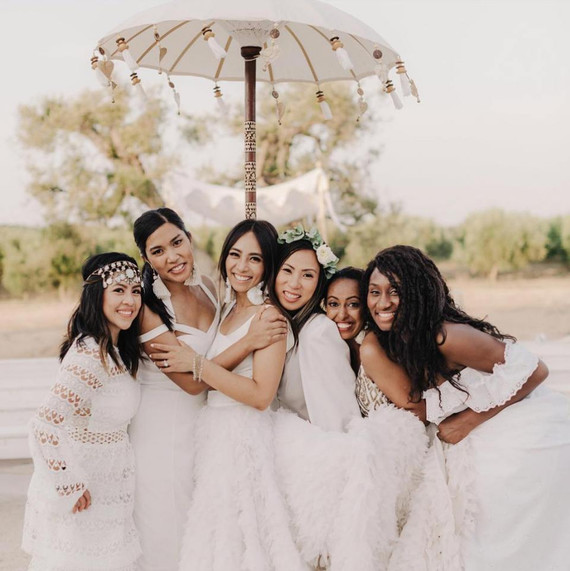 Everyone's heard the old adage that women shouldn't wear white to a wedding, but that rule has been flipped upside down in recent years with more and more couples requesting guests dress in all-white attire. So, when it comes to choosing attire as a guest, do you also need to worry about blending in with the bridal party? The short answer is no, but here's what you need to know to avoid looking like a bridesmaid.
Is it okay to ask what the bridesmaids are wearing so I can avoid looking like one of them?
Lizzie Post, host of the podcast Awesome Etiquette from the Emily Post Institute, says that no guest should ever feel embarrassed if they happen to wear the same color as the bridesmaids, but they can ask in advance what the colors will be if they're concerned about it. Post says, "I think it's really nice when the couple chooses to post the bridal party colors on the wedding website," so guests can be aware of what colors to avoid.
Is it okay to wear a bridesmaids' dress from a different wedding?
Post says it's totally acceptable to reuse a dress as long as it fits the formality of the wedding. "If you had a beautiful, flowy, silky gown that you wore to another wedding as a bridesmaid and you're heading to a backyard barbecue wedding, I really don't think that's the choice you want to make," Post says, "but as long as the dress fits the formality of the wedding, I think you're going to feel comfortable in it."
How can you style a bridesmaid dress so it doesn't look so bridal if you're reusing a dress from a previous wedding?
Claudia Hanlin, owner of Wedding Library, recommends steering away from accessorizing the dress in a way that feels too neutral, which she says is typically how a wedding party will style a bridesmaid dress. "Maybe wear a chunky necklace or a funky pair of shoes or a leather bomber jacket, or whatever it is that makes it feel like your own." She says as long as it's within the dress code of the wedding, you should be able to pull it off.