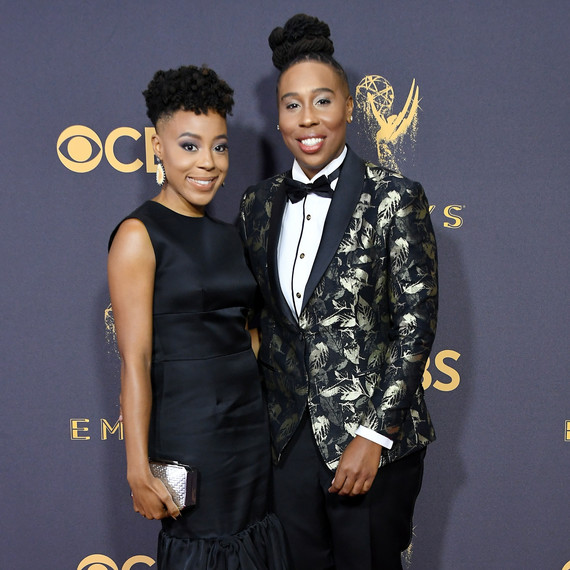 Lena Waithe and Alana Mayoast may have gotten engaged last Thanksgiving, but the Master of None star is just now sharing what makes their relationship work, and it involves the funniest story.
On The Dave Chang Show podcast, Waithe admitted to host David Chang that, "It's a big life that I sometimes have to live." Luckily though, her fiancée "definitely helps to keep me grounded." The perfect example of their dynamic? "When I get home from winning an Emmy, she's like, 'Don't forget to take out the recycling,'" she shared. Despite what you may think, being told to do chores after such a momentous occasion didn't phase the actress. Instead, it's why she loves Mayo. "She's so laidback about it all," she explained.
Previously, Waithe revealed that her wedding will be just as laidback as her future wife is. "It's going to be super small, crazy small," she told People. "It's almost like an excuse to have fun with our friends." The couple's also taking a casual approach to wedding planning. "We're anti-stress," she said then. "We're trying to make it a not stressful situation, that's our goal."
In fact, even their engagement was low-key! In an interview with Complex, Waithe shared that while she bought Mayo a ring, Mayo bought her something totally different! "We were in Tokyo, we got engaged in Tokyo on Thanksgiving because that holiday has a very special place in my heart, but she said, 'Lena, I want to get you a ring,' and I was like, 'Uh, that's not really my vibe.'" Later, they went out shopping, "and there was a particular brand [of sneakers] that only is available in Tokyo." According to Waithe, Mayo said, "'I want to get you this pair of sneakers.' So they're my engagement sneakers and I only wear them on special occasions."