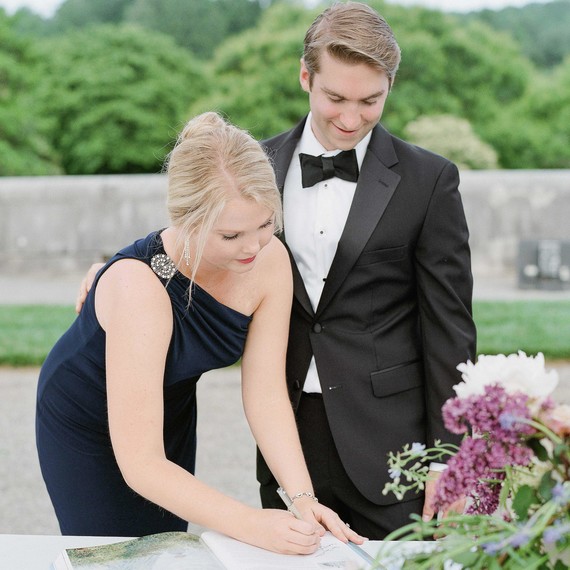 Brides and grooms are encouraged to skip any wedding traditions that they feel aren't representative of who they are as a couple. While we're all for you saying goodbye to the bouquet and garter toss if you feel so inclined, there's one smaller detail many couples are skipping that has us scratching our heads: the guest book. Its purpose is for attendees to leave you loving messages and bits of advice for a happy marriage, but some couples feel that talking to guests and being congratulated by them at the wedding is enough. Like anything else related to the wedding, choosing to have or not to have a guest book is entirely up to you, but you should consider both sides before doing away with this memento entirely.
Why you might want one...
First and foremost, a wedding guest book is entirely about sentiment—it's where grandparents sign with a loving message to the newlyweds and where your college buddies make reference to an inside joke that's still funny. Like a photo, your guest book gathers a record of everyone at your wedding in one place. On your fifth or tenth anniversary, after you've had a kid or two, you'll pull out the book and see the names of some beloved family members who've passed on and friends who've moved away. Knowing they were all together under one roof will be a happy memory that jumps out at you on every page.
Plus, your guest book is yet another place to be creative. And no one said it even has to be a traditional book. Ask guests to sign a coffee table book either created online with your childhood and/or engagement photos or a ready-made one with lots of gorgeous photos of your honeymoon destination or favorite shared hobby. Anything that can be signed—a globe, wooden bench—can be a guest book.
Why you might not want one...
Though finding a guest book is easy—all you need is a pretty blank book and a few pens, which you can buy at a zillion stores—if you're very picky and need the book and pens to match your wedding's color scheme exactly, then it'll be another chore on your to-do list. And if your budget is tight and every dollar counts, a guest book is a simple item to cut. While it won't save you tons of money, it's one less thing you have to pay for, and you won't feel badly about shelling out for one if it doesn't really get used. After all, unless guests know it's there or you assign someone to encourage guests to sign it, you may end up with a book that's mostly blank pages.