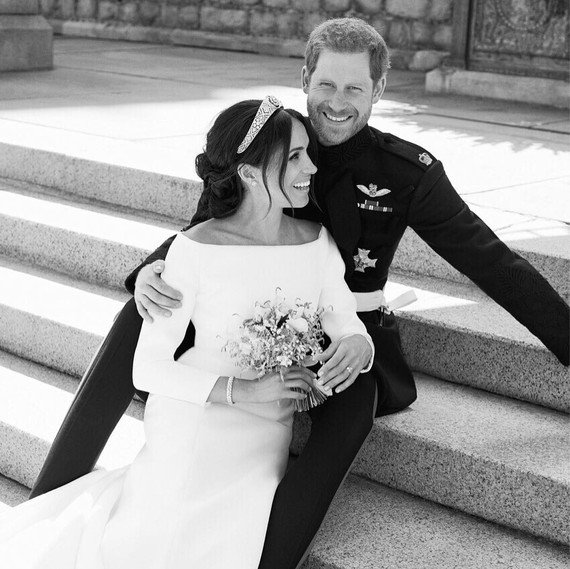 Think you have an excuse not to send thank-you notes for wedding gifts and cards? Think again. Even the busiest of royals respond to well-wishers! Meghan Markle and Prince Harry have mailed out their gratitude and there's a photo to prove it.
Royal Letters just posted an image of the couple's card design, which includes a famous portrait of the newlyweds: the Alexi Lubomirski snapshot of the bride and groom resting on the steps of Windsor Castle. On the back of the photo is a printed message.
"The Duke and Duchess of Sussex have been overwhelmed by all the incredibly kind cards and letters they have received on the occasion of their Wedding, and are so touched that you took the trouble to write as you did," the pictured note reads. "It was really thoughtful of you and greatly appreciated by Their Royal Highnesses who send you their very best wishes." The formal letter was sent in an official Kensington Palace envelope.
As shown elsewhere on Royal Letters' Instagram feed, the wedding thank-you notes are actually quite similar to the couple's engagement thank-you cards. Those letters included a photo of the couple that was taken just after they announced their intention to wed. The language may only differ slightly, but that's understandable—just imagine how many congratulatory notes they received from around the world! While we love their cards' designs, we recommend handwriting your own to make them a bit more personalized.