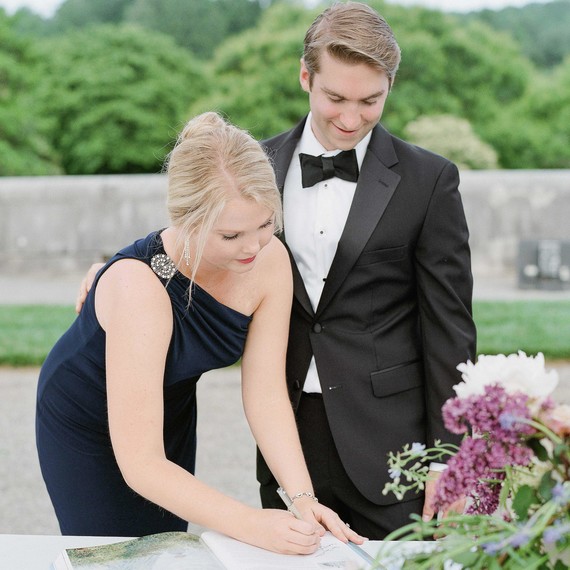 Wedding season is a busy time, and when many of your friends and family members are all getting engaged, it's very possible that you'll be invited to more than one event on the same night. After all, there are only so many Saturday nights each summer! So what should you do in the event that you're invited to two different receptions on the very same night? While you could potentially try to go to both, it's tough, and the pros advise against this. Here, two wedding planners share their best tips on navigating this scheduling conflict.
Your best bet is to choose just one wedding to attend. 
If you received overlapping save-the-dates, the ideal solution is choosing only one wedding to attend from the very start. According to Rebecca Stone of Duet Weddings, "It's better to be 100% there physically and mentally, partly for your own comfort and enjoyment (who wants to be checking the clock and worried about splitting the day?) and also because the couple will appreciate you being there completely with them." Plus, considering traffic and delayed schedules, there's no guarantee you'll arrive at the second celebration on time—and nobody likes a super-tardy guest!
To pick the wedding you'll RSVP "yes" to, Stone recommends weighing your relationship to the couples. Family members and close friends should take top priority—and if you're a member of a bridal party, the other wedding is out of the question. Sometimes, however, the decision isn't so easy. "If the couples are of equal importance, then factoring in other details, such as travel and costs, can help tip the scale," says Stone. As selfish as it sounds, your own enjoyment should also come into play; you don't want to wind up feeling uncomfortable or out-of-place at a wedding. According to Stone, "Couples should consider where they'll have the best time. Perhaps the wedding is in a destination they've always wanted to visit, or maybe they will know many of the other guests."
Consider splitting your time.
If the weddings are geographically close to each other, wedding guests can consider splitting their time between the two celebrations. Keep in mind that this should be done tactfully to avoid offending either couple. "The obvious distinction is the ceremony and reception split," says Elizabeth McKellar, wedding planner at The Nouveau Romantics. Of course, it's best to inform the couple of your plans before their big day. "Being honest with your hosts and letting them knows help, especially if they need to have a count for their venue, which is standard practice," says McKellar. "If they don't know that you won't be at the reception, they'll still be charged for it. Letting them know is being a good guest." Make sure to explain the situation and express your regrets. While the couple may be slightly disappointed at your partial absence, they'll likely be understanding and accommodating as well. 
No matter what, practice proper etiquette.
Whether a guest misses someone's wedding completely or leaves early, it's vital to practice proper etiquette. McKellar says you "absolutely" should send a gift to both pairs of newlyweds. "It can be whatever you feel comfortable with, and it doesn't have to be a big gesture," she says. Also, if you're skipping someone's wedding, it's not a bad idea to celebrate with them at a different point in time. McKellar recommends treating them to dinner or a weekend getaway, so they know you're thinking about them during this important life milestone.