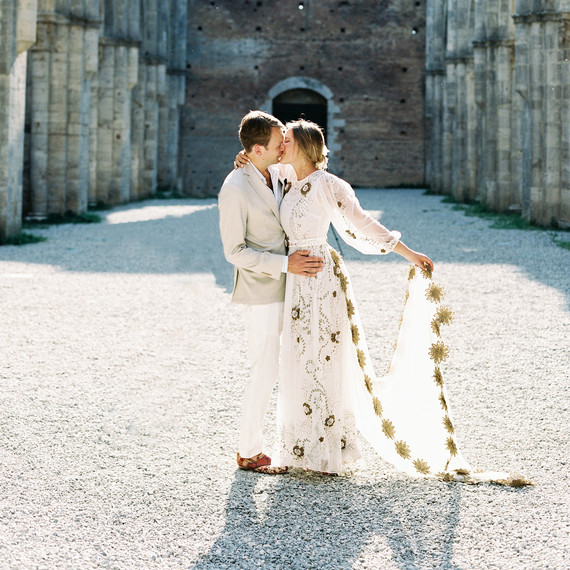 You want your wedding to be perfect—who doesn't? But the reality is that it's a day just like any other, which means it's susceptible to the natural obstacles of everyday life. The best thing you can do with the planning time you have is cross all of your Ts and dot your Is to ensure that everything that's important to you is accounted for. Another helpful to-do is to talk to former brides and grooms about what they wish they knew before they tied the knot. To help you get started, we asked a few women to share what they would have done differently if they could plan their weddings again. 
Hire a Professional Photographer
You've heard it time and time again: It pays to hire a pro wedding photographer. "We tried to save some money by asking our neighbors to take photos for us at our ceremony and reception," says recent bride Melinda R. Unfortunately, it was a decision the couple came to regret. "This was a huge mistake. While he took a few nice ones, they are by no means professional, and he didn't get all of the important moments that we so desperately wish we have. I would definitely recommend hiring a professional to handle this important job."
Make the Party One Hour Longer
Recent bride Jenny B. says that the reception seems so long when you're planning it, but the actual wedding day will fly by. "Most venues have a cut-off time for when the music needs to stop and the event has to come to a complete finish. We knew that our reception would only be five hours long, but that sounded like until eternity when we were planning our wedding," she explains. "When it came time to shut down the whole thing, we were so upset. It felt like it had only been an hour! Between taking photos and listening to speeches, I wish we had a bit more time to just dance and have fun."
Start Hair and Makeup Earlier
No one wants to get up super early on the morning of the wedding, but you may have to. Just ask bride Brianna S. "I thought we had slated way more than enough time for hair and makeup. How could you need more than five hours for all your girls to get ready? Word to the wise: It can take way longer on your wedding day," she explains. "We ended up running an hour late, which cut into my pictures with my family and bridal party. It wasn't a huge deal—we still got the important photos—but if I could re-do it I would leave more buffer time so I could have relaxed more with everyone and got some more fun shots with my closest people."
Understand the Rules in Relation to Your Venue
Joy B., who had planned to get married in Yosemite, was shocked to find out her venue had to cancel her wedding the same week of her wedding. "This meant I had to find a new venue, and caterer in five days. We had 75 people coming in and some were already stranded in Yosemite," she explains. "In short, I wish I had not chosen to get married at a government park!"
Create a Shot List
"Like most brides, I thought I had hired a top-notch photographer who knew what he was doing. While I was happy with most of the pictures he had taken, there were a few very important ones that he missed," says Corie M. "I don't have a picture with just my mom and my husband doesn't have one with just his father. I'm not sure how it happened, but I wish the photographer would have double checked." That's why she tells future brides to create a shot list of the must-get photos in advance of the big day.
Worry Less!
"If I could go back, I wouldn't worry so much about all of the little details," says Jill K. "On the actual day of your wedding, you don't notice half of the things you worry about in the months leading up. And, at the end of the day, all that matters is whether or not you and your guests had a fun time."
Spend More on the Details You Care About
"Flowers just weren't important to us. I feel like we could have put the money towards other areas that actually would have made a difference in terms of our happiness levels," says Jessica G. For her, that meant the band and photography, and while she's glad she splurged there, she would have put more of her budget towards other experiential elements if she could go back.