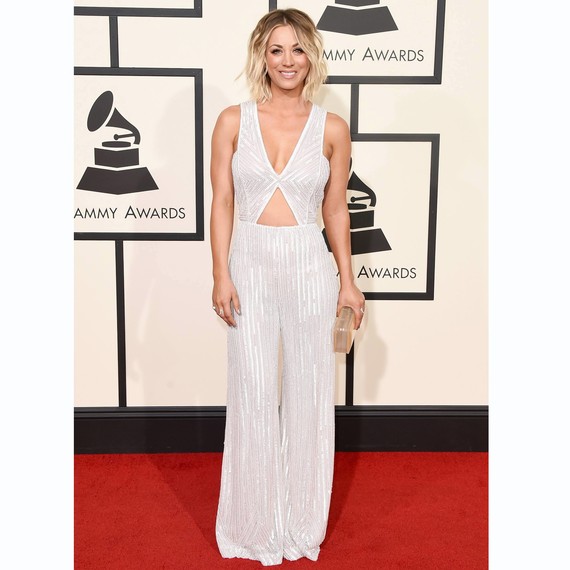 Since Kaley Cuoco became engaged to Karl Cook last November, she's been clear that she wants to tie the knot sooner rather than later. Her latest pre-wedding party suggests that the Big Bang Theory actress is keeping with that expedited timeline. On Saturday, Cuoco celebrated her bachelorette party at a bar, surrounded by her closest friends. The best part? In a video taken during the festivities, the actress gave her fans a hint about her bridal look, reports E! News.
"I'm getting married in white," Cuoco revealed in her friend and makeup artist Jamie Greenberg's Instagram Stories. This detail is especially intriguing, since the star wore a pink dress to her first wedding to Ryan Sweeting in 2013. 
The actress hasn't given up on the color pink, entirely, though. She incorporated her love for the shade into her bachelorette party, which was pink paradise-themed. While she wore a long-sleeved, studded white minidress for the occasion, the majority of her guests stuck to an all-blush color palette. According to her Instagram photos of the event, the décor followed suit. Tons of pink balloons and streamers hung from the ceiling.
The bash was attended by several of the celebrity's friends and family, including her sister Briana Cuoco and mother Layne Cuoco. As for her bachelorette party playlist? The group danced to songs from the star's favorite female artists, like Kelis' "Milkshake," Britney Spears' "Piece of Me" and "I'm a Slave 4 U," Gwen Stefani's "Hollaback Girl," Beyoncé's "Crazy In Love" and "Single Ladies," and Madonna's "Like a Virgin" and "Vogue."