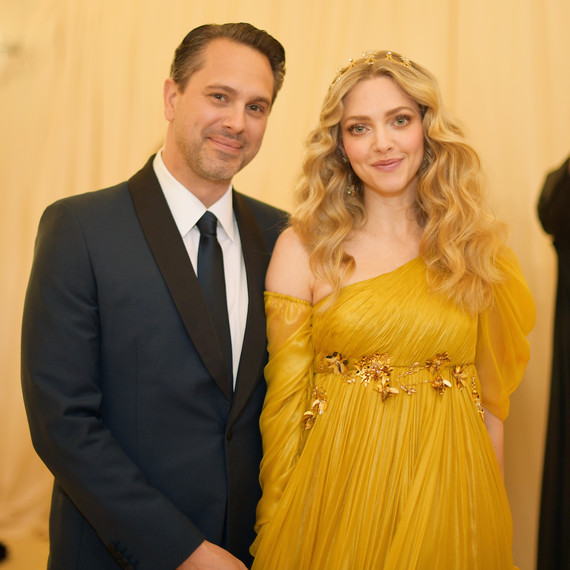 Amanda Seyfried and Thomas Sadoski may have decided to elope back in 2017, but that doesn't mean the couple's opposed to having a larger wedding to celebrate. In an interview on the DENtalks podcast, Seyfried explained that she's open to the idea of having a second wedding.
"I love the big wedding," Seyfried shared. "We'll do that down the road when she's walking—or she can officiate it, even," the actress laughed, referring to the couple's baby daughter. "We're married so we don't need to actually get married again, but it would be nice to have a ceremony. I love the idea of family and friends gathering around to celebrate your love." She went on to call the idea "beautiful" and "amazing."
That being said, Seyfried doesn't regret her Topanga Canyon, California, elopement at all. "It was just for us," she said, "and it was just magic." The star revealed that she and Sadoski "didn't even have vows." She called the casual celebration "really emotional and cool," adding that "it was exactly as it should have been" at the time. The actress went on to praise her husband and the father of her daughter. According to her, Sadoski made her feel "safe" and "brave," and she knew he "would be there unconditionally." The couple truly trusted each other, and that's what made their relationship work.
Seyfried and Sadoski's marriage was first announced when Sadoski flashed his ring on The Late Late Show. "We just took off into the country with an officiant and just the two of us, and we did our thing," he said then. "Listen, she's the person that I love, admire, respect most in the world," he shared.