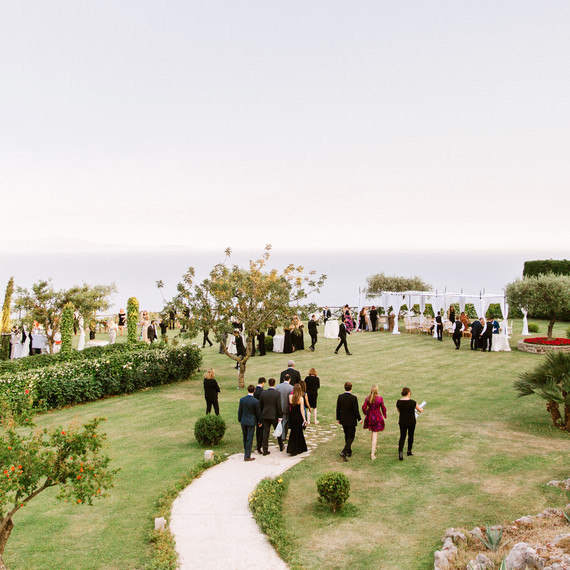 There are etiquette dos and don'ts that apply to all wedding guests, but there's a subset of attendees who have an additional set of rules to follow. Plus-ones, or the guests of invited guests, need to consider more than just the basics. To get the scoop, we asked two wedding planners to share guidelines that every plus-one should keep in mind this summer. Consider this your handy cheat sheet.
Be Sure to Help the Invited Guest RSVP Early
It's important for guests to RSVP promptly, so if an invited guest asks you to join them for the wedding, give an answer as soon as possible. By quickly letting the couple know who will be attending, you two are minimizing any additional stress (and costs) for the hosts, says wedding planner Shannon Leahy. "Guest names will likely be shared with calligrapher several weeks out, and meal preferences are usually required in advance," she says. "Finding this information out at the last minute can create extra costs or rush situations for your host."
Try to Chip In On the Gift
While plus-ones don't necessarily to have to bring their own gift to the wedding, Leahy says it's gracious for you to contribute to the present the attending guest will be giving. If you're looking for something meaningful to give on your own, celebrity wedding planner Lisa Vorce says that opting for charitable gifts is the way to go. "Consider a charitable donation that would be meaningful to the bride and groom based on what you know about them," she says. "If you've heard they are animal lovers, donate in their name to an animal shelter of your choice. If they are naturalists, have a tree planted in their honor."
Remember What Happens at Weddings Doesn't Stay at Weddings
While Vorce says it's important for plus-ones to have fun and enjoy themselves at any wedding this summer, she also says it's equally important to be conscientious about their behavior, especially when they don't know the couple at all. "During the ceremony and reception, act the way you would at Easter brunch with your grandma," she says. "For the after-party, have fun, but don't do anything you will regret in the morning! Keep in mind that what happens at weddings doesn't necessarily stay at weddings." 
Be Careful with Attire
Plus-one etiquette also extends to attire, and Vorce advises these guests to be careful about what they wear during summer weddings. The season may be associated with shorter sleeves and hemlines, but you shouldn't wear anything too revealing. If you aren't sure what to wear, always follow the dress code specified on the invitation. "Look to the invitation, location, and season for clues," she says. "In general, unless the invitation specifically calls for white-themed attire, do not wear white or ivory."