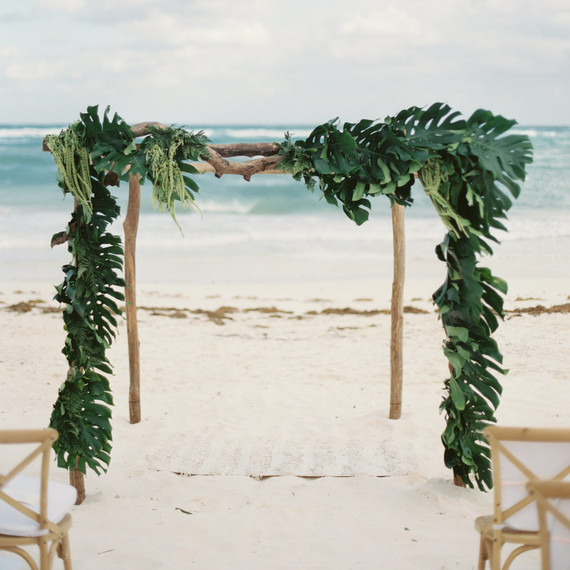 Flower crowns. Food trucks. Table garlands. They've all been done before, but that doesn't mean there's anything wrong with bringing them back on your big day. If these details fit with your vibe, then go for it. When I got married in 2016, I had an endless amount of pink flowers, a strapless lace wedding dress, and oversized I-bought-them-for-the-gram balloons, and I had no shame about it.
But if you're someone who wants to be on top of the most current trends, wedding app Joy has the list for you. Using knowledge they've gathered from chatting to thousands of brides-to-be, their team of pros forecasted the new trends that will be impressing guests at wedding's taking place all summer long. Check out their predictions for the wedding season ahead, plus get insights about each from the app's CEO, Vishal Joshi.
An Unplugged Ceremony
Frustrated with guests ruining their pricey professional wedding photos, some couples are choosing to ask them to leave their iPhones in their pockets. Interested in following suit? There are plenty of adorably phrased signs you can use to communicate your preference. Alternatively, include a note in your ceremony program asking guests to stay off their phones, or instruct your ushers to spread the request by word of mouth.
Destination Vows
In an effort to provide maximum entertainment—and turn their nuptials into a weekend-long event—more couples are opting for far-flung vows, reports Joshi. "Couples are increasingly inclined to create entire experiences for their guests, ones that they'll enjoy beyond the wedding itself," she explains. To craft a trip that will keep your pals talking, she suggests, schedule activities that give them the opportunity to explore the local surroundings.
Comfort Eats
Even at their tastiest, multi-course meals can feel kind of fussy. That's why more couples are getting back to basics, says Joshi. Menu items such as taco stations and donut bars liven up any party, which is why you should expect to see them throughout the summer.
Bold Color Schemes
While blush tones are classic, these days "brides are adding vibrancy into their color schemes," reveals Joshi. Among the look-at-me hues: reds, oranges, violets, and blues. Expect to see lots of color at the receptions you RSVP "yes" to this summer.
Sleek, Modern Décor
To complement statement-making floral decorations, couples are opting for neutral designs in white, gray, and black. To try it, incorporate marble, slate, or stone pieces throughout your reception space, add in matte, gold, silver, and copper accents, and consider paring back. Says Joshi, "Make sure to leave blank space and create patches of white throughout the setting to infuse the décor with an air of minimalism. Less is more if you want your wedding look more modern."
Jam-Packed Entertainment
Even when they're not throwing destination affairs, pairs are adding unexpected events into their wedding timeline. "There are a lot of easy and relaxing activities that couples can plan to really transform the weekend into a fun, interactive experience," says Joshi, who suggests coordinating wine tastings, karaoke outings, hikes, morning yoga, or even a cooking class. To avoid making the experience feel overwhelming, make each optional so guests can pick and choose what they're interested in.
Generous Greenery
Joshi says many couples are going green for their receptions, decorating their party space with tons of leafy details. Try lining your aisle with pampas grass, using potted plants as table arrangements, or even hanging greenery over your dance floor. "It really gives the space an ethereal look," Joshi says.