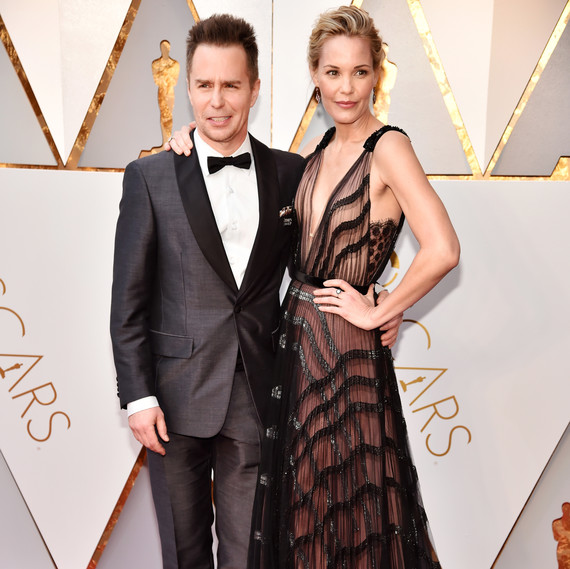 Sam Rockwell and Leslie Bibb have been going strong for over a decade, so it's no wonder people turn to the couple for relationship advice. Luckily for all, the Three Billboards Outside of Ebbing, Missouri star and the Iron Man actress share plenty of great pointers. In a recent interview with Us Weekly, Rockwell revealed some secrets to their success.
Despite their busy schedules, the stars make sure not to spend too much time apart. "We have a two- to three-week rule and then we see each other," he shared, adding that "you get too independent if it's four weeks, five weeks."
Aside from keeping close, the couple bonds over their shared "sense of humor." In the end though, Rockwell thinks their relationship's longevity really boils down to one thing: "We just look after each other."
In an Us Weekly interview earlier this year, Rockwell gushed about Bibb. "She's my beloved," he shared, adding, "She keeps me laughing." He also called the model "really talented." The actor has never been shy about expressing his love for her. In fact, at the 2018 Oscars, he wore custom David Yurman cufflinks to honor her. One read "Leslie" and the other read "Bibb!" Men's stylist Michael Fisher shared a photo of Bibb holding the accessories. There, he explained Rockwell's style choice: the set was his "#GoodLuckCharm." How adorable is that?