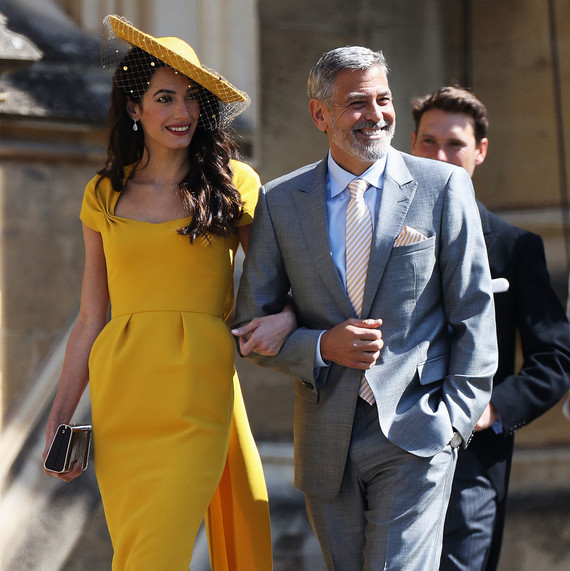 It's no surprise that George and Amal Clooney were invited to every part of Prince Harry and Meghan Markle's wedding—the bride-to-be and human rights lawyer have become fast friends. According to a People source, Amal (a fellow London resident!) has taken it upon herself to help the Duchess of Sussex acclimate to life across the pond.
"Meghan and Amal have known each other for a while [and share] many interests," the insider explained. "Amal has been helping Meghan settle into London life. It was a very natural friendship from day one." The pair was reportedly introduced by a mutual friend and grew closer after Meghan's high-profile move.
Her royal wedding attendance, then, went beyond her lauded philanthropy and celebrity status—she had a real-life relationship with the bride! For the morning ceremony, the mother-of-two stepped out in a yellow Stella McCartney dress and matching fascinator and reportedly attended both the luncheon (hosted by the Queen!) and the evening reception at Frogmore House. It's rumored that her husband acted as a makeshift bartender throughout the evening by regularly passing out tequila shots.
Amal and George established residency in London shortly after they welcomed their twins in June 2017. Their proximity to Kensington Palace has made the Duchess and lawyer's friendship easy, but the celebrity pals will have to do the distance this summer. The Clooneys are allegedly retreating to their Lake Como property (where the couple first met!) in Italy and plan to remain there for the majority of the summer.