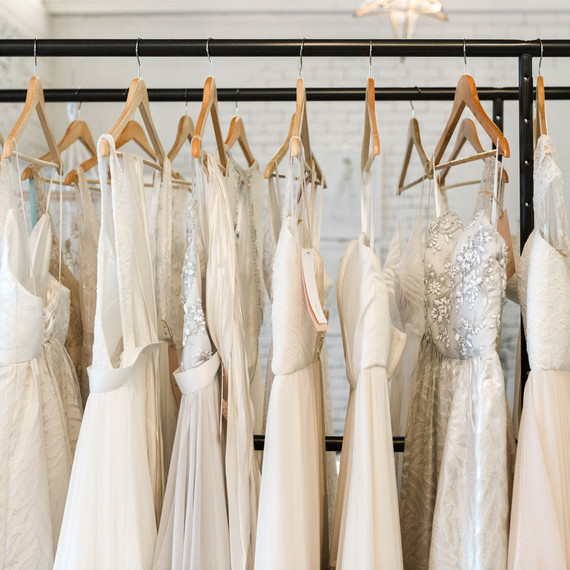 Society hasn't made it easy for brides-to-be. Between Say Yes to the Dress and movies like Bride Wars and 27 Dresses, there is one wedding-planning moment universally understood and agreed upon: the "I found my dress crying moment." But what happens if the wedding dress of your dreams doesn't make you well up? The truth is, it's totally fine.
So many women go wedding dress shopping and expect that "the one" will bring tears to their eyes. In reality, that's not always the truth. After trying on many different dresses, the shock of seeing yourself in a stunning bridal gown may have already worn off, or else you may just not be that emotional of person. Of course, some women do cry as soon as they put on the wedding dress they're going to purchase, but it doesn't mean you haven't found the right gown for you if you don't. If you put on a style that checks all of your boxes and that you know you love, go for it. Don't second guess yourself because everything you've ever seen about wedding dress shopping makes you think you should have this incredibly emotional moment.
As your shopping, just remember that every bride is entirely different. Some will get teary because they feel like it's all starting to sink in that they're getting married. Others will take a more analytical approach and may even feel overwhelmed by the process. Whichever camp you fall into, trust your gut and go with your instincts. If it feels like the right dress for you, go for it. If it doesn't, keep looking.
As for those tears, don't be blinded by them either. Many women cry over the first dress they try on, usually because of all the emotion surrounding this important shopping trip. Nerves, excitement, and maybe even a little bit of stress are all factors. Don't feel required to purchase the first wedding dress you try on just because you have an emotional reaction to it. Same goes for the reactions of those around you. Your mom, sister, friends, and grandma are so excited to see you in a wedding dress, and the sight may make them shed a tear. Don't feel pressured by their displays of emotion, and consider going back solo if you want to take a second look at a gown without everyone else's opinions.