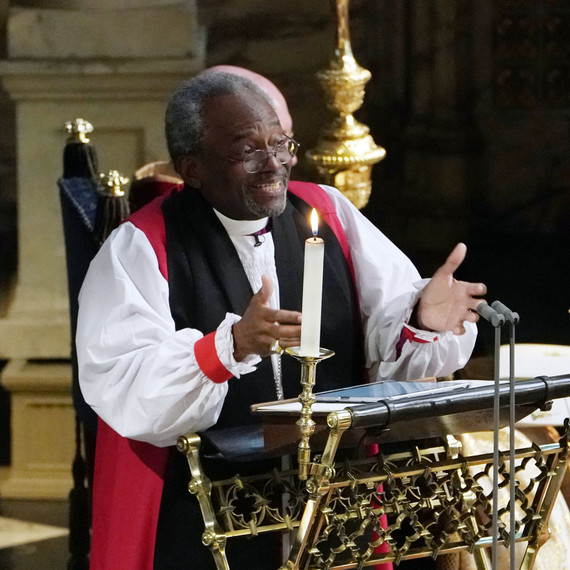 Bishop Michael Bruce Curry's address on the power of love was a highlight of Prince Harry and Meghan Markle's royal wedding ceremony—and one that went down in history. His command of language, incredible energy, and apparent lack of nerves may have made it seem like he'd been preparing all of his life for such an important role, but that's far from the truth. As it turns out, he never saw this opportunity coming. It was such a shock—and so top-secret—that he couldn't share the news with anyone, not even his wife.
"It was the decision of the couple, but they were in consultation both with the Archbishop of Canterbury and with the Dean of St. George's and I'm sure others as well," he told Good Morning America. "I got a phone call, and I didn't believe it, because a member of my staff called and said, 'They'd like you to preach at the royal wedding,' and I said, 'Get out of here it's April Fools. You've got to be kidding me.' And it was actually true."
He then added that he couldn't reveal that he'd been selected to anyone—not even his wife, who didn't know about her husband's job of a lifetime "for about a month," he said. When he arrived in London and actually met Prince Harry and Meghan Markle, things began to feel real. "The love between those two people, between that royal couple, was so powerful not only did we all show up, but it brought all these different worlds together," he explained.
Recalling the surreal ceremony, Curry said that those in attendance witnessed and participated in an overwhelming act of love. "Actually for a moment, we were actually together, organized, around love. Their love was a sign of God's love and what that can do in our lives," he said.