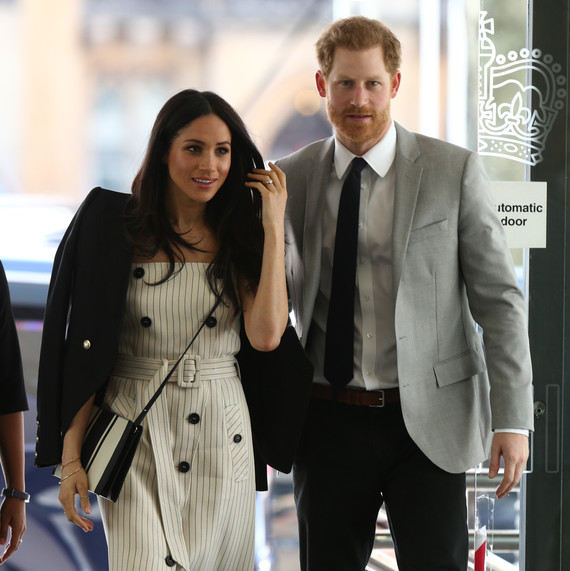 Ever since Meghan Markle announced that her father, Thomas Markle, was no longer able to attend her wedding to Prince Harry, there's been plenty of speculation about who would have the honor of walking her down the aisle. Rumors included her mother, Doria Ragland, Prince William, Queen Elizabeth, and even her groom. Today, Kensington Palace put all of the whispers to rest with a statement that relayed the bride-to-be's new choice—and her final decision is unlike anything we've seen at previous royal weddings. 
"Ms. Meghan Markle has asked His Royal Highness The Prince of Wales to accompany her down the aisle of the Quire of St George's Chapel on her Wedding Day," the announcement reads. "The Prince of Wales is pleased to be able to welcome Ms. Markle to The Royal Family in this way." Her future father-in-law won't escort her the entire way, though. According to CNN, the bride will remain unchaperoned for the majority of the procession, making Meghan the first bride at a British royal wedding to enter her ceremony alone.
An update on the #RoyalWedding: pic.twitter.com/wfJ6ZFyzHi

— Kensington Palace (@KensingtonRoyal) May 18, 2018
After being met at the doors of the church by a member of the clery, she'll walk unescorted through the chapel, with her bridesmaids, page boys, and officiant walking ahead. She'll pause when she reaches the Quire—the area where the guests are seated—and begin to walk with her future father-in-law, who will escort her towards Prince Harry at the altar. Prince Charles won't give the bride away, though. CNN reports that he'll stand back as Meghan takes her final steps towards her future husband. According to the outlet, the bride came up with this plan herself, and wants her entrance to show that she's "a strong, independent woman who is prepared to challenge royal norms."
Despite wanting to make a statement with her entrance, Meghan always intended to be escorted at least part of the way down the aisle. It makes sense that the bride, who is deeply saddened that own father's won't be there on the big day, would ask the next closest person—her soon-to-be father-in-law. As far as alternatives go, Prince Charles is quite the option. Nothing makes your royal wedding more special than being escorted to your prince by the future King of England!
Now that this lingering detail has been resolved, Harry and Meghan are simply counting down the minutes until their big day. And they've had some company. Meghan's mother, best friend Jessica Mulroney, and Suits co-stars have all arrived in London. The couple spent the majority of Thursday rehearsing Saturday's ceremony with the royal family. It's anticipated that both of their families will spend time together later this evening, which will mark Meghan's mom's first meeting with the Queen, reports the BBC.