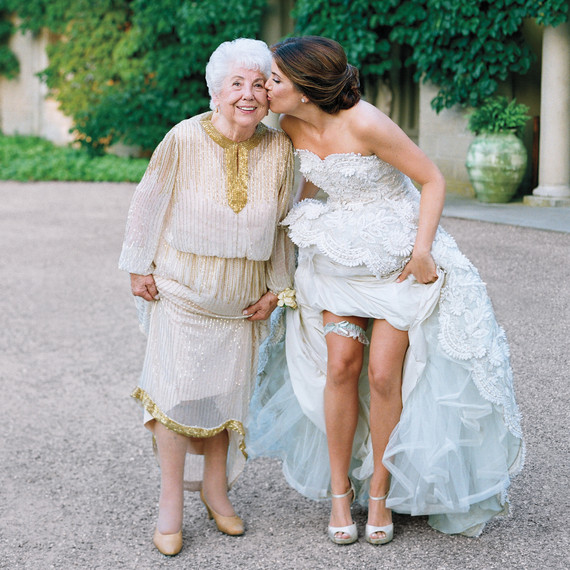 Weddings are a young man's game. The all-day drinking, the midnight eating, the extreme dancing, the wrestling of the bouquet out of another guest's hands...you get the idea. While it's easy to get caught up in the details that make your day fun and interesting for the people your own age, it's important to take time to consider the comfort of guests of all abilities—like Grandma. To ensure your grandparents—and guests to all ages—have just as good a time as everyone else, we consulted planners Melissa Leo Cousins of Melissa Leo Events and Virginia Edelson of Bluebird Productions who shared the following foolproof tips.
Save Her a Seat
If you've opted for a choose-your-own-adventure-style reception, Leo warns this could make things harder for the grandmas. "We've had a few express their distaste for lack of seating assignments," she says.  Saving seats for your elderly guests is a tactic both experts mentioned for both the ceremony and reception. Whether it's an aisle or a reserved table, this is one extremely easy way to make sure your grandmother enjoys the entire event. And while we're on the topic of assigning seats, be sure to keep the oldest and wisest far from the DJ or band.
Send Snacks Her Way
Once your grandma's seat is secure, go one step further and ensure she never has to leave it to get a taste of your hand-selected appetizers. "Specifically direct catering and staff to these 'reserved' areas during cocktail hour and the reception to take beverage orders, clear dishes, and take care of any other requests made by the guests," suggests Edelson. "They will certainly be thankful for not having to stand in line at the bar to retrieve a drink or food during cocktail hour!"
Give Her a Shout-Out
Now that you've got your granny well-fed and comfortable, nourish her heart with a thoughtful gesture to show her the years she spent spoiling you didn't go unnoticed. "If you have a specific relative that has played a particularly important role in your life, thank them at your wedding for their guidance and support, whether through a toast or speech, a special dance, or a written thank-you in the ceremony program," suggests Edelson. Every grandma loves nothing more than bragging about her grandkids, so give her something she'll remember (and talk about) forever on the day you will also never forget.
Don't Stress Too Much
If you're wearing a black wedding dress or rocking that bold lip color you really love and you're concerned about what grandma will think, Leo says not to be. "Most grandma's we've come across are pretty hip to the new trends brides are adopting. For the most part, it's really fun to watch elderly guests boogie on the dance floor (and show the younger guests some fancy moves), and it's especially entertaining hearing their comments when things like late-night snacks come out."