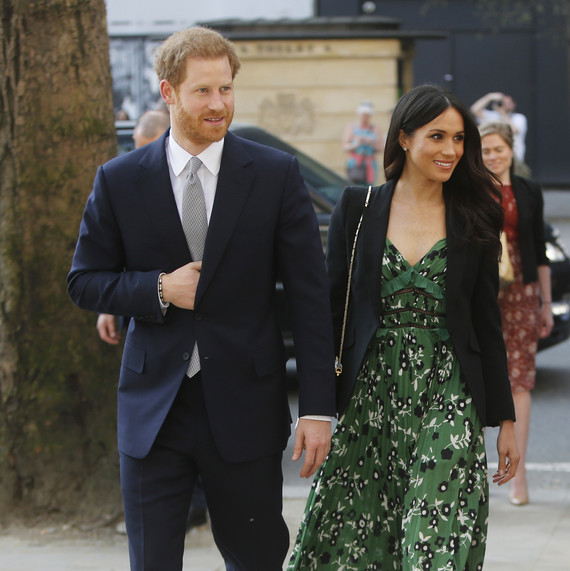 With the royal wedding just days away, it's officially crunch time for the couple's team of vendors. That includes Prince Harry and Meghan Markle's baker and florist, who were both spotted preparing elements of the event this week.
As previously announced, the soon-to-be bride and groom have asked pastry chef Claire Ptak to make their lemon elderflower wedding cake. Now, Ptak's London-based bakery, Violet, just shared a telling photo on Instagram. The image—which showcases crates of lemons—is captioned, "And so it begins." It's safe to assume that those very fruits are the ones that'll flavor the reception dessert!
Meanwhile, the couple's florist, Philippa Craddock, is seemingly in the process of arranging their floral décor. People reports that a truck full of blooms was spotted outside the professional's London shop today. Multiple containers of pink and white flowers—plus equipment to display them—were seen on the vehicle. While these ones appear to be fake (there's a lot of venue space to fill!), Craddock confirmed earlier that the event will feature real, in-season varieties as well. Those will include two wedding favorites: garden roses and peonies.
Prince Harry and Meghan's first engagement as a married couple comes next Tuesday, when they'll join the Prince of Wales and Duchess of Cornwall, at Prince Charles's 70th Birthday Patronage Celebration in the Gardens of Buckingham Palace. #royalwedding #HarryandMeghan

— Emily Nash (@emynash) May 14, 2018
While the prince and Markle's team of experts are busy executing couple's big-day vision, the future husband and wife are already preparing for married life. It was just revealed that their first official outing as newlyweds will be Prince Charles' 70th birthday party on May 22, says royal reporter Emily Nash. This news supports People's report that the couple plans to delay their honeymoon.