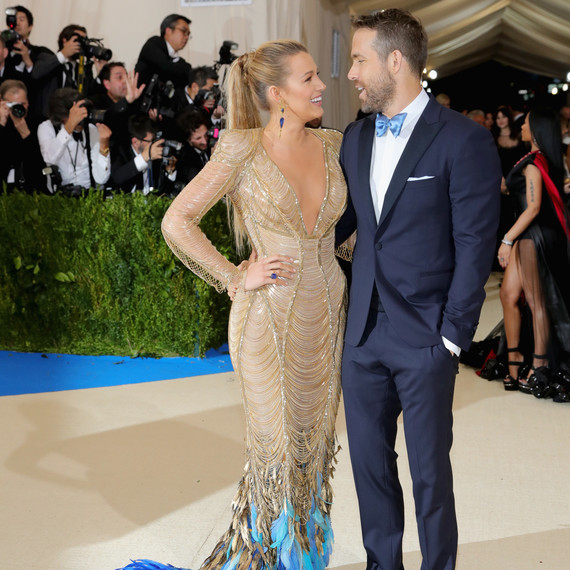 Ryan Reynolds has had many roles over the course of his career, but his all-time favorite is "husband." The Deadpool 2 actor made that clear after a few of his fellow celebrities jokingly called him "Mr. Lively." His response? It's the best position in the world.
Reynold's rebuttal came out of his mock-rivalry with the stars of Book Club, including Diane Keaton, Jane Fonda, Candice Bergen, and Mary Steenburgen, who used Blake Lively's last name when referring to Reynolds (the stars have been going back and forth since their movies premiered on the same day). When asked about the Book Club cast's comment, the father-of-two said that he's "happy about it." "Oh, I'm Mr. Lively 24/7," he told Entertainment Tonight at the New York City premiere of Deadpool 2, where he and his wife of five years walked the red carpet. "It's great. [It's the] best gig."
And that wasn't the only sweet thing he had to say about Lively. The actress supported her husband by wearing his character's signature colors (red and black), and her husband said that she "rocked" the look. Reynolds also added that he'd don those hues too, if their roles were reversed. "If she were Gwenpool I'd be wearing the Deadpool colors as well," Reynolds said.
The couple's joint appearance came just over a week after Lively walked the 2018 Met Gala red carpet alone (Reynolds was abroad promoting his film). She wasn't completely without Reynolds by her side, though. She accessorized her ornate Versace gown with a monogrammed Judith Leiber clutch, which included her husband's last name and her children's initials, guaranteeing that they'd be by her side in spirit during her evening out.