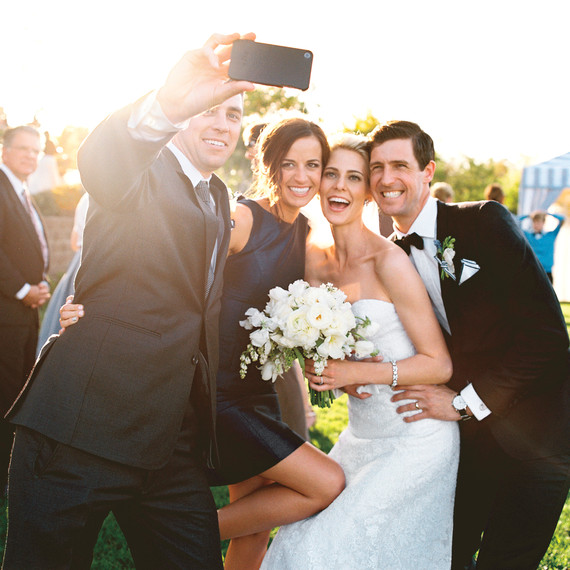 Wedding season is upon us, which means that you're probably gearing up to attend a number of events this summer. At each one, somewhere between your first sip of the couple's signature drink and when the dance floor heats up, something familiar will happen. All of a sudden, you notice a familiar face running around with a tie wrapped around his head. You think to yourself, "Wait, do I know that guy?" 
Maybe not his name, but you do know his kind. In fact, the drunk groomsman is just one of several reoccurring characters that you'll see at every wedding this summer. To identify more like him, we asked those who have been to thousands of weddings—photographers and planners—about the guests they've seen at every event. Their responses did not disappoint.
The Girl with the Missing Shoes
If there's one guest you can always count on meeting, it's the girl who can't find her shoes, swears Alicia Fritz, owner of A Day In May Events. Those stilettos aren't the most comfortable, and, more often than not, they kicked off when dancing picks up. "Once she realizes she's missing her shoes, she'll look to us for help," the pro explains. "Of course, we oblige and more often than not Jimmy, Christian, Manolo find their way back to their owners, but if we could give guests shoe tracking devices, we would!"
The Inappropriately Dressed Guest
"It never ceases to amaze me with what people think is appropriate to wear to a wedding," says Gretchen Culver of Rocket Science Events. "You have seen this woman before, the one who bought a blush chiffon gown that matches the bridesmaids on purpose, or the guy who shows up in camo pants and a baseball cap to a black-tie affair." In the event of such a fashion emergency, locate the nearest photographer and steer them clear of this faux paus. No couple needs an everlasting reminder of Great Aunt Sally's micro-mini.
The iPhone Photog
This social media superstar graduated from the university of FaceTime with honors. And while their heart is in the right place trying to get the photo of the night, they are making it more difficult for the real photographer to do his or her job. "As a photographer, I strive to capture genuine moments and especially reactions to significant events," says Abby Jiu. For example? "When the bride walks down the aisle with her dad, I always have my eye on the mother of the bride. I want to get her genuine reaction to her daughter's grand entrance. If mom is focused on getting a picture, unfortunately she can't be in the moment and therefore there is no genuine reaction to capture."
The Fighting Couple
"The most common guest at each wedding is by far the 'fighting couple,'" says Fritz. Why? Well, you can thank all of the alcohol and societal pressure that's in the air. "We've never had any food thrown but we've seen our share of slaps and temper tantrums. You can't help but stand back and watch it unfold like bad day-time television." Whether it's because someone won't dance, someone didn't "give it their all" in a photo booth, or because one half of the twosome is upset that they're not engaged yet, the fighting couple can strike at any moment.
The Crier
The crier is an equal opportunity offender. Old or young, male or female, the crier takes on many different appearances, but is always easy to spot.  He or she wells up when the organist plays her first note, is reduced to tears at the sight of a baby in a tuxedo, and emotes at the mere suggestion of an Ed Sheeran song. Interestingly enough, the crier hardly even knows the bride or groom—they're a second cousin's plus-one.