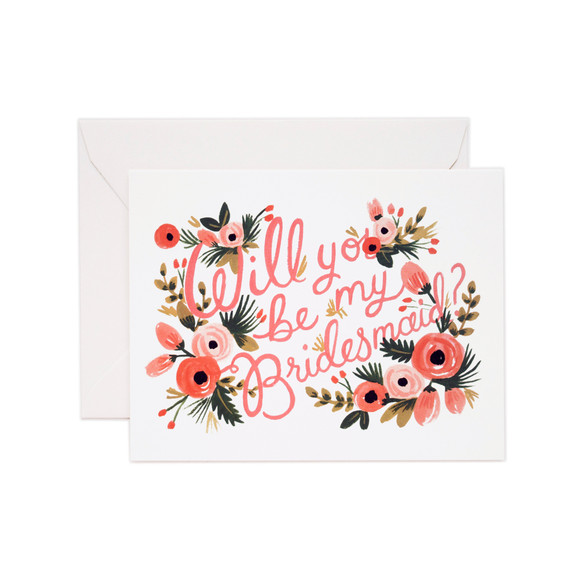 After your brand-new fiancé asked you that very important question, it's your turn to pose a query of your own—to your friends, that is. Maybe you've planned a special afternoon to ask your closest relatives and best friends to be your bridesmaids, or else sent everyone an adorable little gift with a card that asks the question for you. Either way, it probably hasn't occurred to you that anyone might say "no." While it doesn't happen all that often, there are instances where a prospective bridesmaid may turn down your invitation to be part of the wedding. Before you get upset, find out what to do next.
Have an honest conversation.
If you're asking someone to be part of your wedding, you obviously feel close to this person in some way. While it may sting to know that their turning down your invitation to be part of the wedding party, you should feel comfortable enough with them to ask why they've declined. Maybe it's a financial thing—she just can't afford to buy a dress and fly out for your wedding—in which case you could be able to help. But there could be other problems at play, too: Perhaps she's just gotten out of a long-term relationship and doesn't think she can handle the pressure of being involved in someone else's wedding right now; maybe there's an issue with your friendship that needs to be resolved. 
Decide what to do next.
After a prospective bridesmaid says "no," you have two options: go forward with one less attendant or ask someone else to be part of the day. There's no rule that says you need to have the same number of attendants standing on either side of the aisle, so if there's no one else you feel that close to, you shouldn't feel compelled to ask another person. However, if there is somoene else you'd love to include in your day but simply didn't have the room for, you could certainly extend an invite. Just make sure they don't feel like they've been chosen as a replacement.
Include her in some other way.
Depending on why your friend or family member turned down the job of bridesmaid, you could consider including her in some other way. If she couldn't make the time or financial commitment, maybe she'd like to deliver a special reading during the ceremony. If she felt too shy to stand in front of all of your guests or be photographed all day long, she might like to help you with DIY projects and choosing décor.