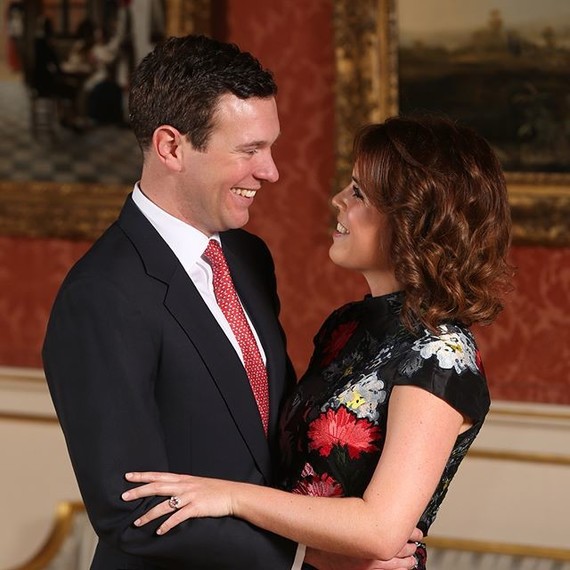 Kensington Palace just became home to another set of soon-to-be newlyweds! Princess Eugenie and her fiancé, Jack Brooksbank, have officially moved into the royal community, People reports. The best part? Their new residence is located next to Prince Harry and Meghan Markle's, which means the two brides-to-be will be able to compare wedding planning notes.
Prior to the move, Eugenie lived in an apartment at St. James's Palace. Her engagement to Jack, which came after seven years of dating, and their ensuing nuptials (they'll tie the knot in October!) prompted the couple's relocation. The twosome now share the Ivy Cottage—their first home together!—a three-bedroom house nestled beside Nottingham Cottage, Harry and Meghan's two-bedroom on the palace's grounds.
But Harry and Meghan aren't Eugenie and Jacks's only neighbors. Ivy Cottage is also close to Apartment 1A, Prince William and Kate Middleton's home at Kensington Palace. It looks like Prince George, Princess Charlotte, and little Prince Louis officially have a slew of babysitters on site! Between Uncle Harry and Aunt Meghan and cousins Eugenie and Jack, the youngest generation of royals will grow up in a neighborhood full of loving couples.
Eugenie and Jack got engaged in early January on a trip to Nicaragua. When Kensington Palace broke the news of their intentions to wed three weeks later, the royal family also revealed that the princess and her new fiancé would tie the knot at St. George's Chapel—just like Harry and Meghan. Eugenie's father, Prince Andrew, expressed his joy over their upcoming union on Twitter. "Jack is an absolutely outstanding young man and Eugenie and he have got to know each other over a number of years, and I'm really thrilled for them," he said.