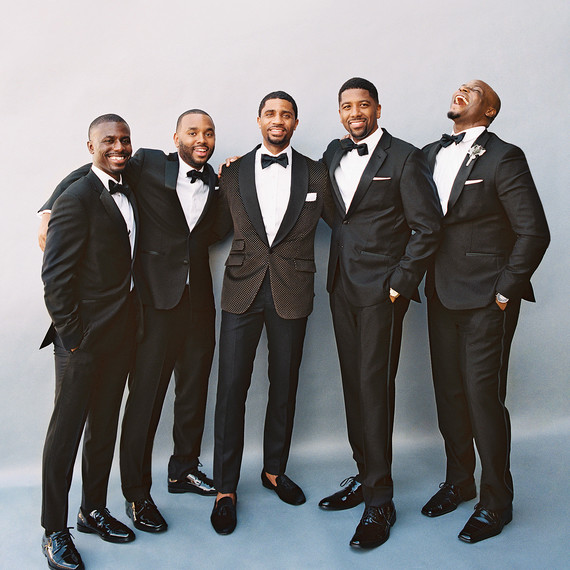 It seems like everyone always ask the bride what her favorite part of the wedding day was, but what about her groom? He was there, too, wasn't he? Although guys often get overlooked, we know that the wedding day is just as important to the him as it is to his new wife. That's why we asked five recent grooms to share their favorite memories from their big days, and their answers are absolutely adorable. 
Watching the bride walk down the aisle.
For recent groom Johnny T., seeing his soon-to-be wife make her ceremony entrance was a moment that could not be beat. "Honestly, the best part of the day was seeing my bride walk down the aisle," he says. "We'd been planning this one moment for almost a year, and it was just perfect. I tell people now that it was unlike anything I've ever experienced before, and certainly a moment I will never forget."
Being surrounded by loved ones.
Alex S. says that his wedding day was so special because of everyone who was there to take part in it. "I loved looking around the reception and seeing all of my closest family and friends," he says. "It really made me and my wife feel so loved. I'm thankful that we have so many people rooting for our marriage and our love."
The main course.
"Well, I obviously I loved the food—I paid for it!" says Harold R. "I told my wife, one of the things that was important to me for the wedding was having a really great dinner for our guests. We had amazing barbecue catered in. I think the food was really memorable to our guests, we were getting compliments all night!"
The personalized vow exchange. 
Eric L.'s favorite moment came during the ceremony. "My wife and I decided to write our own vows. We both spent a long time writing them and didn't hear each other's until the actual ceremony," he remembers. "I've never cried so much! It was just a really special moment for both of us, and it almost felt like we were the only ones in the sanctuary for a little while."
The time between the ceremony and reception.
"I obviously enjoyed the ceremony, but you're in front of all those people. You don't really get a moment to talk with one another," Brian F. says, which is why his favorite part of the day came after the vows were over—but before the party started. "We decided to take our pictures in between the ceremony and reception, and I really valued having that alone time with my bride before we went into the next part of the day."