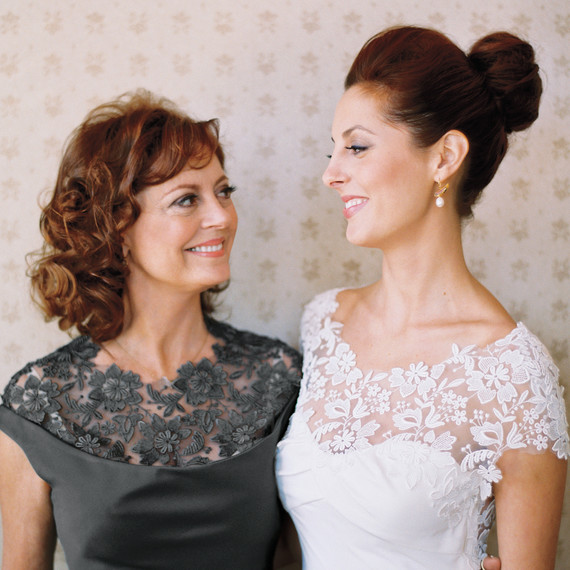 Everyone wants to feel involved in your wedding planning process in some way, especially your future mother-in-law. It her son's wedding, after all! If she lives far away, you might find it difficult to include your groom's mom as you make decisions, but her distance is no reason to keep her in the dark about your overall plans. To ensure you stay on your future mother-in-law's good side ahead of the wedding, read up on our favorite ideas for keeping her involved as you plan the big day.
Invite her to join in on the important tasks.
Are there special meetings with vendors that you'd like your future mother-in-law to join in on? This could be anything from the wedding dress fitting, menu or cake tasting, or venue walk-throughs. If so, you should give her a call, let her know you'd love if she could be there, and set a date that works for you both. Since she lives far away, it may not be possible for her to travel for all (or even any) of these appointments, but it will definitely make her feel like you want her to be a part of the process. Even if she can't make it happen, she'll appreciate that you tried to include her.
Let her join in digitally.
Even if she can't make a meeting, take pictures while you're there and send her a quick text saying something like, "Hey! We looked at this wedding venue and think it's gorgeous! Just wanted you to have a chance to see it, too!" It's a simple and easy way to stay connected with her while she's physically distant. For other important moments, like wedding dress shopping or choosing the flowers, you may even want to FaceTime her.
Set up a monthly check-in.
Especially if she and your future father-in-law are footing the bill for part of the celebration, it's nice to keep them looped in all of the little details. Choose a standing time for a phone call or video chat—say, the first Sunday morning of each month at 10 a.m.—for you and your husband-to-be to walk them through all the progress you've made. Already super close with your future mother-in-law? Keep her updated with a weekly text or chat.
Give her a job.
According to traditional wedding etiquette, the groom's parents are supposed to foot the bill for the rehearsal dinner, personal flowers, the reception bar, and any entertainment. If his parents are generously offering to follow this traditional breakdown, you should definitely include his mom in the planning of these details. Should you two be like most modern couples, though, you're probably getting financial help from both sides of the aisle and paying for a big chunk of the day yourselves. Even still, it's nice to let his mom take ownership of something. If she's a pro researcher, ask her to look up some of the best local bands or DJs. Does she have amazing penmanship? Maybe she wants to address your save-the-dates. This can be a great way to connect and bond while you two work on an aspect of the wedding together—even if it's from different sides of the country.