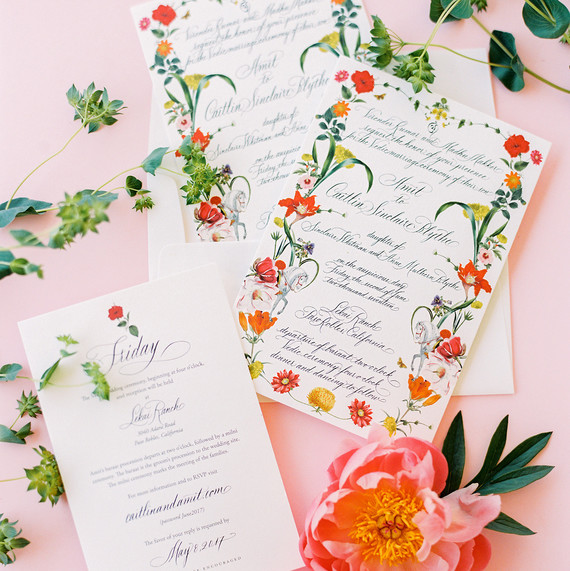 You're over the moon that your brother or sister and their longtime S.O. are engaged, and they've finally set the date for a Saturday evening this summer. But when a jewel-toned envelope arrives in the mail, officially inviting you to the wedding of one of your best friends from college on the exact same date, what are you supposed to do? If you've been invited to two important weddings on the exact same day—it happens more often than you'd think!—start by taking a few deep breaths. Then, consider these scenarios to determine the best course of action.
If both weddings are important enough that you'd be there in a heartbeat if they were on different dates, start by determining if there's any chance of attending both wedding ceremonies. Are the weddings within a reasonable driving distance and at different times of the day? If you're not in the bridal party for either wedding, then it is feasible that you could be present for both ceremonies and attend just one of the receptions—witnessing the bride and groom exchange their vows is the most important part of the day, after all!
In this scenario, RSVP "yes" to the wedding and reception that you'll attend, and officially decline the other—it's important to be mindful of the fact that the bride, groom, and family are paying for every guest to attend the reception. For the "no" RSVP, make sure to reach out to the happy couple to let them know that you're double-booked that day, but you'll still be present to witness their vows, and you can't wait to see her dress!
If you've already committed to being in the bridal party of one wedding, it's still possible to attend both ceremonies, it's just a bit more complicated. Make sure the bride is fully aware of the situation. If the other wedding is this important to you, as long as the timing isn't disruptive to the larger schedule of events and photo ops for her big day, hopefully she'll understand. If the timing is a conflict, then your options are either to bow out of bridesmaid duties or else acknowledge that you won't be able to attend both weddings. It's a hard decision to have to make, especially when both weddings are so important, but it's better to be present for one celebration than to stretch yourself too thin, add undue stress to the bride and groom on their wedding day, or even strain your personal relationship with them over something that really is beyond your control.
What if you know immediately upon opening the invitation that you won't be able to attend both weddings? Alas, sometimes timing can't be helped. If you find out about the conflict of dates well after the venue and vendor contracts have been signed, you're probably not in the bridal party or in the immediate family of the bride and groom, as much as you love them. Decline, but send your well wishes, and make plans to get together to celebrate their nuptials within their first few months of marriage. No doubt the bride will love reliving all the special moments and sharing her favorite photos!