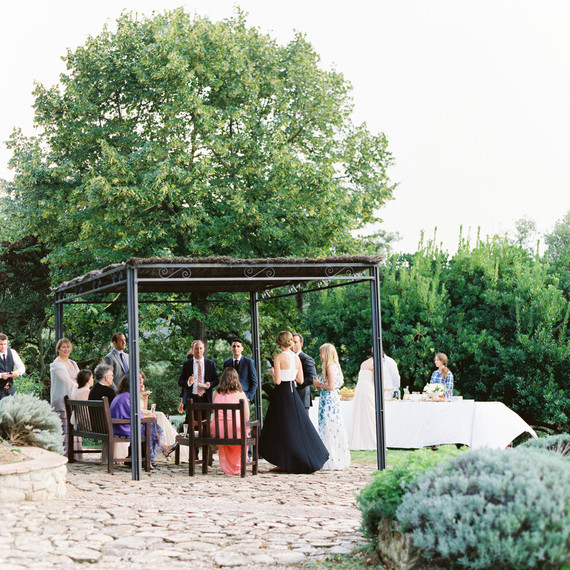 One of the best parts of a wedding is knowing that your loved ones will be gathered in one place to celebrate you and your new spouse. It should go without saying, but you'll want to thank each and every guest for their attendance and support on the big day, which is why the traditional receiving line was born. Immediately following the ceremony, guests line up to greet the newlyweds, their parents, and sometimes even the bridal party. While a receiving line ensures that all guests get some facetime with the happy, it's also a drawn-out process that eats up precious time. Thus, they've fallen out of fashion in recent years. 
You certainly can choose to have a receiving line on your wedding day, but know that there are other ways to greet your family and friends, too. These three modern alternatives are some of our favorite options to consider.
Make the rounds at the reception.
If you've decided against a receiving line, consider greeting guests by making the rounds at the reception instead. Walking to each table ensures you'll speak with everyone, and the conversations will likely be less stuffy than in a formal receiving line. A word of advice: Eat dinner before you get up to chat each table or you could get caught up talking and miss the meal.
Converse during cocktail hour.
If you're choosing to have a first look, you'll be able to wrap up your portraits before the ceremony and then be free to attend cocktail hour. This is the perfect time to greet your guests, and you'll be left with the entire reception free for dinner, dancing, and enjoying the festivities. Keep in mind that this works best for small- or mid-sized weddings with around 100 guests; otherwise, you may not get to everyone before cocktail hour ends.
Have a pre-wedding welcome party.
Some couples don't want to waste a single moment of their wedding on the formalities, and that's okay. If you're worried about the big day schedule being too tight, consider hosting a wedding-related event before the big day. This can take the form of a welcome dinner, a pre-ceremony cocktail hour, or even a boozy brunch. Spending sufficient time with guests before the wedding lets everyone enjoy the festivities without worrying about formal greetings—and it's an especially good idea for destination celebrations with many loved ones traveling from out-of-town.