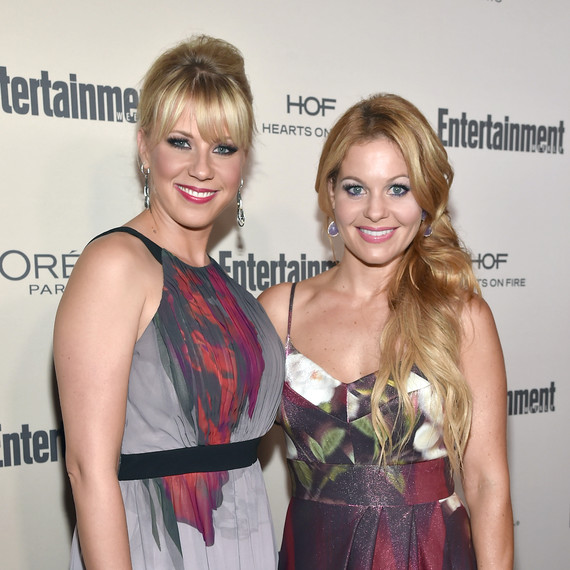 Candace Cameron Bure is the very best kind of wedding guest. She says she's typically the last woman standing on the dance floor and she's planning on bringing that exact type of energy to Bob Saget's upcoming wedding to blogger Kelly Rizzo, she told Entertainment Tonight. "I stay 'til the end, I dance through the whole thing," she explained at the premier of Saget's new film, Benjamin. "You know it, I will close it down. I shut it down." 
Bure also dished about Saget and Rizzo's bond, which she knew was long-lasting even before meeting her Fuller House co-star's then-girlfriend. "The first time I met Kelly—before I met Kelly, Bob was like, 'You're really gonna like her, she has the same values as you, she's a Christian and she loves God,'" she recalled. "I was like, 'Okay, but I'd still love her if she weren't, Bob.' He's like, 'But you'll really love her'. And she's great, she's wonderful. And I'm so happy for them and I can't wait to go to the wedding."
Little is known about the onset of the couple's relationship, but they reportedly first crossed paths in 2015, after they were introduced by a mutual friend. They made news of their engagement public in November 2017, when Saget posted a photo of the couple celebrating their upcoming union on Instagram. "Love the people in this picture," he captioned the image, which also included friends George Shapiro and Katie Killean. "The most loving and legendary @George_Shapiro Katie Killean & of course my gal Kelly. In case you're wondering, we were celebrating our engagement—and I know George and I will be very happy together," he joked.
Rizzo was just as thrilled—and comical—about her upcoming marriage. "We got engaged last week—a total surprise," she told Us Weekly last year. "Though being viral is part of my business, I still try to be fairly private when it concerns our relationship. But I will say that Bob and I are incredibly lucky to have found each other, and I love all six of his personalities."