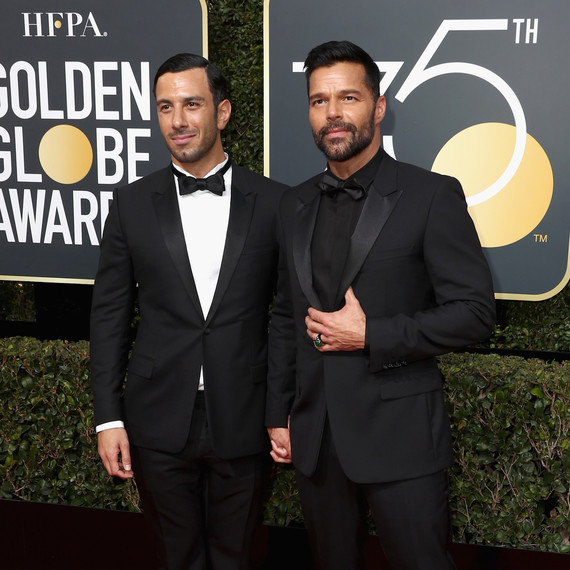 Married life agrees with Ricky Martin and Jwan Yosef. At a recent event for The Assassination of Gianna Versace: American Crime Story, the singer and actor talked to Us Weekly about his relationship and explained that being married to the Swedish painter is "so freaking cool."
"I love it! I look at this foreign object, [my wedding ring], on my hand and I'm like, 'Yes but it's mine!' And we look at each other every night and we go, 'This is so special. I like it,'" he continued. While their bond has always been rock solid, Martin explained that tying the knot has made his relationship feel more official. "That paper makes a lot of difference," he said. "That signed paper is very special, which makes me strong about 'come on guys. Every country should allow us to get married because it's just natural.' It might take a while but anyways, I just think it's important," he explained.
Post-wedding, the couple is absolutely in the honeymoon phase—something Martin hopes never ends. "I hope it lasts forever," he said. "I don't want to sound cheesy but I hope [it does]." Marin and Yosef tied the knot in a private ceremony in January. A three-day party, however, is soon to follow—these two are going all out! "[It will be] the typical three-day party, the dinner, the rehearsal, the party, and the recovery. You'll be the first to know," he told E! News.
This isn't the first time the "Livin' La Vida Loca" singer has gushed about his partner. "It feels amazing!" he said, of being able to call Yosef his husband. "I can't introduce him as my fiancé. I can't. He's my husband. He's my man," Martin said.