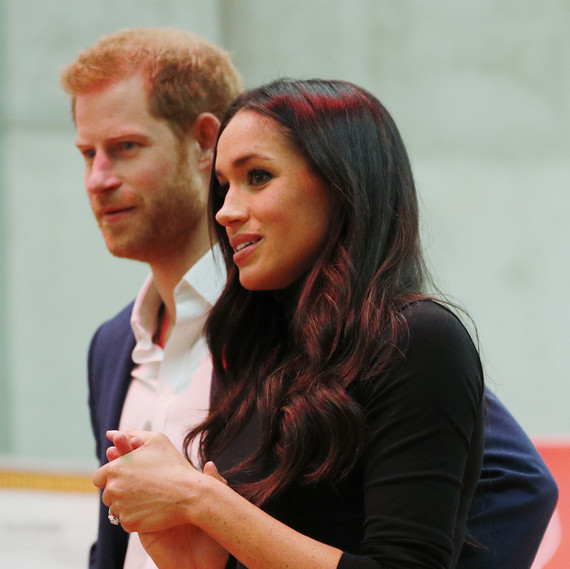 Preparing for royal life might not look exactly like a scene out of The Princess Diaries, but it definitely takes some work and compromise. Actress Meghan Markle, who's in the middle of that process, has seemingly met every life change with ease. Just months after relocating to Kensington Palace to share a home with Prince Harry, Meghan took one more step for her future husband. According to the a popular U.K. newspaper, the Suits star is planning to convert to the Royal Family's religion.
Markle, who was raised Protestant and attended a Catholic high school, will join the Anglican faith, London's The Times reported on Sunday, and will be baptized and confirmed in the church by the Archbishop of Canterbury Justin Welby at Kensington Palace. The ceremony is set for sometime this month—it could happen as early as this weekend!—and will include both of Markle's parents. While the conversion is not necessarily required (Meghan doesn't have to be Anglican to marry Harry), it shows how dedicated she is to making royal life her own and honoring Queen Elizabeth, who serves as the head of the church.
The ceremony is momentous for more than just religious reasons. If the rumors are true, Meghan's father, Thomas Markle, will finally meet his future son-in-law. According to an E! News source, the bride-to-be's mother, Doria Ragland, will be flying in this week, as will Meghan's dad. 
The conversion is just one sign that the royal wedding is fast approaching (we're only three months away!). Meghan may have also marked her upcoming nuptials with a bachelorette party—or, as the now U.K. transplant calls it, her "hen do." The celebration was reportedly low-key and took place at an undisclosed luxury spa, alleged The Times. The guest list was small and just as private, but rumored attendees included fashion designer Misha Nonoo and Violet von Westenholz, who might have introduced the happy couple. Due to her advanced pregnancy and packed schedule, Kate Middleton was unable to attend.