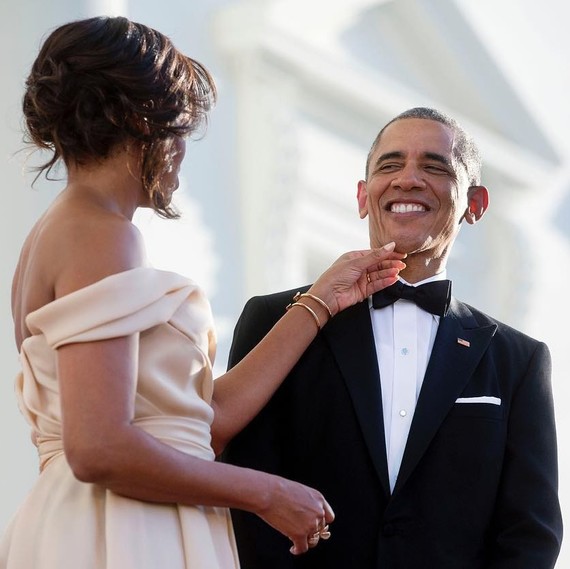 It's not difficult to tell that Barack and Michelle Obama's love for each other has only grown over the course of their 25-year-long marriage. In fact, juggling their high-profile careers, eight years in the White House, and family seems to have further strengthened their bond. Those years in the limelight, however, did take their toll in one small way: the former POTUS's hair! Michelle Obama got hilariously candid about her husband's "silver fox" status in an interview at Klick Healther's MUSE New York, stating that he considered hair dye when "he got gray," reported People.
"[Silver fox] were other people's nicknames for me [to give to him]. I never called him that," she laughed. "He regrets that he hadn't dyed his hair before," she teased. "It's like, ladies, hair dye and diet and exercise! If it weren't for his gray hair, he'd look good too!" Of course, the former first lady's comments were all in jest—to her, her husband is as dapper as they were when they met at work in 1989. "He looks great, you know that," Obama told the audience.
Later on in the interview, she also opened up about prioritizing time with her husband and daughters, Sasha and Malia—a skill, she said, she didn't learn in the White House. "You have to plan that family time," she explained. "Those weren't skills we learned in the White House. There are a lot of professional young couples here who are working two jobs and have kids. Our dynamic is really no different. It's just that everybody was watching it."
Juggling the presidency and first ladyship, she said, wasn't an excuse for her family unit to suffer. "Proactively starting every year, before I booked any meetings or conferences, I sat down with my assistant and we looked at our lives first," she continued. "So we put potlucks in there. We put date nights in there. I put my workouts. We put our vacations on the calendar first. We planned that out first and then what was left, would be left for work."