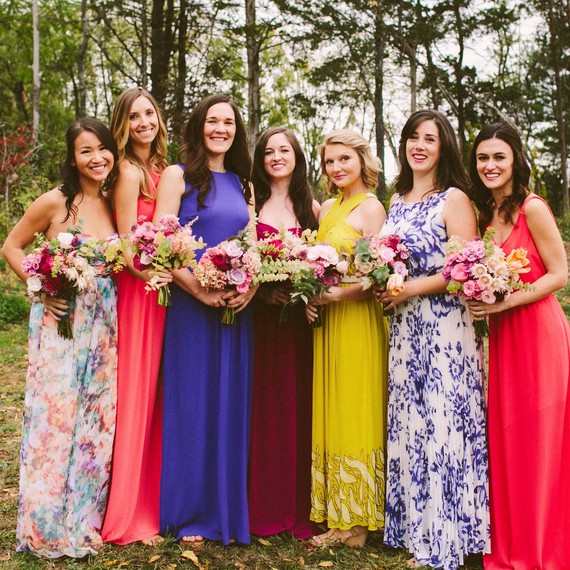 It's not just love in the air during a spring wedding. Pollen, rain showers, the occasional cold snap, and an unseasonably warm heat waves can all be in the mix, too. That's why this can be an especially tricky time of year for a bridesmaid to get their hair and makeup just right, explains Lynnae D'Alleva, owner of DryLand Salon. To help all the spring bridesmaids get ahead of any and all potential hazards, we asked D'Alleva and Caryn Harris, DryLand's resident makeup artist, to share their top tips for big-day attendants. Read on to ensure you're prepared for whatever a spring wedding throws your way.
Avoid an allergy attack.
If you're one of the many seasonal allergy sufferers, those fresh blooms bring more terror than joy. Allergy medications only work when taken consistently, so if you've been prescribed or instructed to take them, be diligent in the weeks leading up to the wedding to avoid waking up to a high pollen count day with eyes so swollen you can't see.
Ensure your makeup is camera-ready.
Winter doesn't go down without a fight, and it's the unpredictable nature of spring weddings that make getting your makeup right a challenge. Although humidity, longer days, and unexpected showers all pose problems, it's actually flash photography that you should worry about most, says Harris. "If the happy couple planned an early afternoon wedding and reception, you may not need to worry about flash photography impacting what ingredients are in your makeup," she explains. "However, if you know that you'll be out past dark or mostly indoors and want to avoid the dreaded flash-back, make sure your moisturizer and makeup doesn't contain the ingredients silica and zinc-oxide." 
Think about your shoes.
Melted snow and humid weather make for mushy, unpleasant outdoor conditions. When you pick out your big-day shoes, think twice about stilettos (or consider heel protectors if you really can't resist), and pack some wipes to make it easy to wipe down your shoes after a trip down the aisle.
Prep your mane.
"The healthier your hair is, the less likely it is to fight the style you've chosen if the weather turns humid," explains D'Alleva. "A few days before your friend's wedding, we recommend making an appointment at the salon. Your stylist can freshen your color or give you our favorite pre-event service, an all-over hair gloss. It adds so much shine!" What we wouldn't recommend in a drastic chop or color change in the days before your BFF's wedding. And that advice applies to all seasons, not just spring.